'Embassy of The Real': a Biennale of Sydney satellite show on Cockatoo Island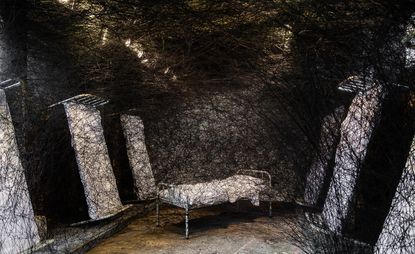 (Image credit: Leïla Joy)
Located in Sydney Harbour, Cockatoo Island has experienced various transformations over the years. The historic former convict settlement once housed Australia's biggest shipyard. Now used for cultural events and film shoots, artifacts sit side by side with film props, blurring the line between fact and fiction, and questioning the nature of authenticity.

Fittingly, it currently plays host to the 20th Biennale of Sydney as a satellite venue – the 'Embassy of the Real'. Cavernous warehouses, abandoned engine rooms, eerie workman's cottages and meandering tunnels offer a myriad of spaces for artists to explore real time and digital reality, science-fiction and outer space, physical space, the body, choreography and language through 21 individual works broadly spread across the island.

A major component of the Biennale's large-scale works are located here. Monumental in scale, Lee Bul's work drapes the 1,640 sq m Turbine Hall with clear and striped plastic sheets, a hovering air balloon, silver airship and flickering track lighting. Macabre circus scenes appear in black outlines upon closer inspection, from beheaded unicyclists to carousels spinning out of control; its sinister tone suggests that our notion of utopia is deeply marred.

At the remote end of the island, Chiharu Shiota explores complex relationships between body and mind within a darkened former convict sandstone dwelling, by weaving a dense web comprising thousands of metres of black thread around metal-framed beds. Trapping memories of the ghosts of spirits passed, Shiota creates a dreamlike place that exists between sleep and waking zones.

Back in a conscious state, though steeped in fiction, Ming Wong re-casts himself in classic science-fiction film scenes in his multi-channel video piece, questioning how identity is both constructed and disseminated. Poignantly, Xu Zhen's fusing of replica classical Greek statues with reproductions of ancient Buddhist deities to create hybrid east-west monuments suggests the possibilities of peaceful co-existence amongst religions and cultures.

Further island exploration reveals dystopian and ambiguous interpretations of our present day reality sprinkled with glimpses of harmony and optimism. Relating them to one's own experience relies entirely upon the individual.
INFORMATION
'Embassy of the Real' at Cockatoo Island is on view until 5 June. For more information, visit the Biennale of Sydney's website (opens in new tab)
ADDRESS
Cockatoo Island
Sydney Harbour
Sydney
VIEW GOOGLE MAPS (opens in new tab)