Biennale of Sydney: 'The future is already here, it's just not evenly distributed'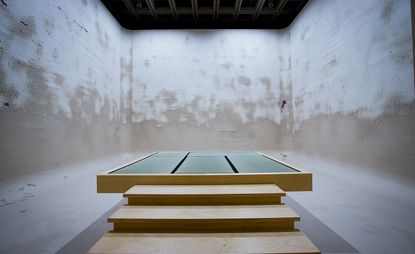 (Image credit: Ben Symons)
At the 20th Biennale of Sydney, guest artistic director Stephanie Rosenthal – chief curator at London's Hayward Gallery – addresses the urgency for reaction to and reflection upon our current place in time. She has assembled 83 international artists from 35 countries to exhibit, perform and spark debate across seven venues, or 'Embassies of Thought', including major cultural institutions plus a constellation of 'In-Between Spaces' spread across the city over three months.

Based on a famous quote by science-fiction writer William Gibson, the Biennale's theme – 'The future is already here – it's just not evenly distributed' – explores the 'uneven spread of technologies and resources, access to citizenship and political rights in the world today, and the uses and effects of digital technologies in different contexts', explains Rosenthal. Each satellite 'embassy' interprets what Rosenthal describes as, 'thematic clusters under a main title'.

Over half the 200-plus artworks have been specially commissioned for the Biennale. Notable experiences include Taro Shinoda's all-encompassing vacuous room lined with cracked white clay within the 'Embassy of Spirits'. Standing on a raised platform lined with tatami matting, the stilted silence feels powerfully restorative. A ferry-ride away at the 'Embassy of the Real' on Cockatoo Island (a former convict colony and abandoned shipyard in Sydney Harbour), choreographer and artist William Forsythe suspends a field of silver bulb pendulums activated in opposing linear directions from a mechanised grid. Visitors navigate their way through the shower of metallic rain.

At the 'Embassy of Transition' (once a mortuary train station), Charwei Tsai's smouldering spiral domes of incense swing gently above the abandoned platform. Inscribed with philosophic Tibetan text, they are meditations on death and, equally, a reflection on life's transience. At the 'Embassy of Disappearance', Lee Mingwei painstakingly recreates Picasso's Guernica as a large-scale floor installation in fine coloured sand, only to be walked upon and swept up in an act demonstrating the cycles of destruction and creation.

Performance is integral to the Biennale, and is presented at each embassy and elsewhere by artists including Boychild, Mike Parr, Boris Charmatz, Germaine Krupp, Neha Choksi, Mette Edvardsen, Agatha Gothe-Snape, Mella Jaarsma, Adam Linder and Justene Williams with the Sydney Chamber Opera. Most intriguing is Ghost Telephone, a chain performance at the Art Gallery of New South Wales in which various artists will attempt to channel the spirits of works in the museum's collection.
INFORMATION
The 20th Biennale of Sydney runs until 5 June. For more information, visit the Biennale of Sydney's website
Receive our daily digest of inspiration, escapism and design stories from around the world direct to your inbox