Christina Kruse's Bauhaus balancing act defies gravity in New York
Bauhaus protagonist Oskar Schlemmer inspired artist Christina Kruse's solo exhibition of new sculptural work at Helwaser Gallery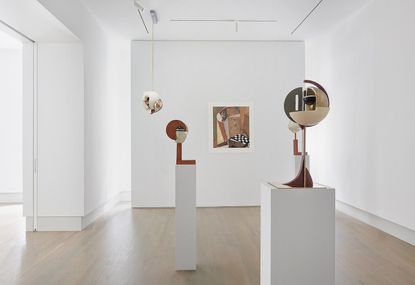 (Image credit: Christina Kruse and Helwaser Gallery)
An esoteric, strength-testing sports instrument called a Cyr wheel seems an unlikely source of artistic inspiration, but that's exactly what sparked the imagination of Christina Kruse. The German-born, New York-dwelling artist known for her photography had been buried deep in the work of Oskar Schlemmer, the Bauhaus polymath who turned the human body into geometry in his ballets, dances and theatre.

'I was looking for ways to build a performance that is based on instinctive movement, creating an instinct-driven situation, that required me to learn technical movements rapidly – which in this case meant heightening the instinct to self-counterbalance,' Kruse explains. 'I designed a body suit – an arrangement of geometric shapes that would eventually alter if the instinct didn't kick in early enough. The outcome of that geometric, alive form interested me: what would it look like if it failed at times, where would the volume of these body shapes be replaced to? It wouldn't just disappear. And how far could the altered geometric body go on before it would collapse because of self-inflicted volume displacement?'
Kruse shares a natural affinity with the Bauhaus master, integrating design, art, and craft into each of her works, whether in two or three dimensions. She also shares Schlemmer's 'absence of colour and little sentiment or emotion', explaining that to her, 'there is a beauty in [his] almost rational approach'. Between her studio in Jersey City, shared with a painter friend, and another space upstate, Kruse has spent the last two years creating a new body of wood, bronze and brass sculptures informed by Schlemmer, referencing the lines of human bodies.

Now on view at New York's Helwaser Gallery until 25 July, her solo exhibition 'Base and Balance' presents this sculptural work alongside some of her drawings and sketches – featured, she says, in order to give the interiors of the sculptures their own rightful place. 'Imagine you are in a circus and then you leave and someone puts a huge blanket over the circus leaving it looking like a big old shape – it's something around those lines.' The sculptures are loosely grouped to recall a tableau vivant, reflecting the practices of the Bauhaus. Schlemmer would have been proud.
INFORMATION
'Christina Kruse: Base and Balance' is on view until 25 July. For more information, visit the Helwaser Gallery website (opens in new tab)
ADDRESS
Helwaser Gallery
833 Madison Avenue
New York
Charlotte Jansen is a journalist and the author of two books on photography, Girl on Girl (2017) and Photography Now (2021). She is commissioning editor at Elephant magazine and has written on contemporary art and culture for The Guardian, the Financial Times, ELLE, the British Journal of Photography, Frieze and Artsy. Jansen is also presenter of Dior Talks podcast series, The Female Gaze.