Christian Marclay tells a tale of two museums in Lausanne's new arts district
The Swiss-American artist inaugurates the future home of Photo Elysée and Mudac with Déballage, a pair of immersive installations celebrating their collections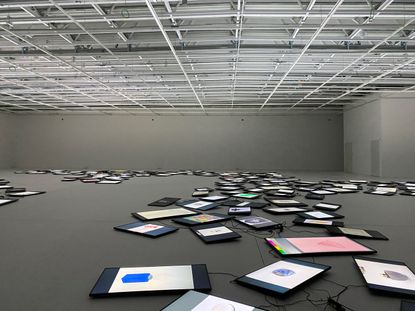 (Image credit: Jessica Klingelfuss)
A stream of plasma televisions snakes around the floor, each flashing a display of objects from the collection of Mudac, Lausanne's Museum of Contemporary Design and Applied Arts. From Mario Botta chairs to citrus wrapping papers and Swiss milking stools, the animations illuminate the ceiling of the cavernous space – still under construction – much like the shimmering light of a swimming pool. 'It's a different world up here,' Christian Marclay reflects. 'I was thinking of puddles [during the making of the installation] and this image of water became true in an unexpected way. The amount of light that it creates – I never imagined that it would divide up the space like that.'

Ahead of the building's grand opening next summer, the Swiss-American artist (and erstwhile Wallpaper* Guest Editor) was given carte blanche to inaugurate the future exhibition halls of the Photo Elysée (formerly the Musée de l'Elysée) and Mudac with a duet of experimental installations that celebrate their collections. The installations, on view to the public from 6 – 7 November, will give Lausannois a fleeting opportunity to explore the forthcoming site of the two museums for the first time.

For the Photo Elysée, Marclay has conjured an immersive environment of digital projections with images mined from the photography museum's million-strong archive documenting the entire history of the medium. At first glance, the myriad images – projected on every possible surface at different scales, some overlapping each other giving a double exposure effect – are seemingly random. But the clusters are threaded by themes, some more ambiguous than others: in one instance, the projector cycles through images with circular motifs, while another slideshow depicts black-and-white portraits with subjects who have placed a hands on their faces. 'The installation reflects the improvised quality of this opening,' Marclay notes, 'and this idea of unpacking and showing aspects of the collection.'
Both installations are, notably for Marclay, absent of sound. The artist was opposed to introducing this characteristic part of his practice – 'Every moving image now has to be with sound otherwise people feel very deprived, it's very odd,' he muses – in order to give reverence to the images and the fine art objects they represent. 'I also believe that photographs are objects. Some of the photographs that I looked at were produced with old techniques, such as cyanotype or bromide prints,' says the artist. 'When you actually see the object, it's magical – they feel very ephemeral because they're very fragile. Museums have this role of preserving. But it's also embalming and preserving history for another generation.'

It's a topic that has long interested Marclay, who has previously created several works directly inspired by the museum collections of the Musée d'Art et d'Histoire de Genève, Whitney Museum of American Art, Kunsthaus Zürich, and the Walker Art Center. 'Over the past decade, museums have increasingly digitised their collections, making them available on the web and giving an invaluable insight into what is stored,' says the artist. 'This new form of virtual archiving has transformed the way we experience art today.'
But it's not just exhibitions that will be drawing visitors in. A complex feat of engineering more akin to bridges than buildings, the structure that houses Photo Elysée and Mudac has been designed by Aires Mateus, the Portuguese firm helmed by brothers Francisco and Manuel Aires Mateus, who won the project competition in 2015. The smooth white cube exterior of the structure – punctuated only by a glass 'smile' – belies an interior saturated with converging angular planes. Inside, the yawning concrete space expands and contracts as visitors move through. Throughout there are subtle architectural cues, such as floating staircases, that the building is suspended over three load-bearing points.

The challenge for the architects lay in designing a building that would service the needs of two very different museums: on the one hand, Photo Elysée required a space that would allow for tightly controlled lighting to protect the integrity of its photographs, while on the other, Mudac's collection would benefit from natural light. They also had to factor in the archive requirements for both. 'The idea was, in a way, to reduce the scale of the building, and make a continuous connection between the outside space and the inside space,' explains Manuel. A triangular window in the corner of Mudac's upstairs space, for example – not part of the original design – forms a direct visual connection to the railway tracks outside and nods to the building's location on the former site of SBB (Swiss Federal Railways) locomotive sheds.

The new building is the latest addition to Plateforme 10, an up-and-coming arts district taking shape next to Lausanne's central train station. The cultural platform – whose Foundation Board includes Audemars Piguet president Olivier Audemars as well as Agnès Sire, artistic director of the Henri Cartier-Bresson Foundation – is already home to another arts museum, MCBA (Musée cantonal des Beaux-arts), which opened in 2019 in a concrete monolith developed by Barcelona-based architecture practice Barozzi Veiga. As Plateforme 10 gears up for the launch of Photo Elysée and Mudac's new premises in June 2022, an old adage rings true: all good things come in threes.
INFORMATION
plateforme10.ch (opens in new tab)
mudac.ch (opens in new tab)
elysée.ch (opens in new tab)