Carol Bove on crushing, crashing and twisting heavy metal into better shape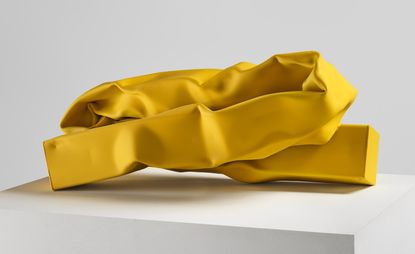 (Image credit: © Carol Bove. Courtesy of the artist and David Zwirner, New York/London/Hong Kong)
On a snowy day in March, all sorts of things are happening in Carol Bove's studio. An assistant in a white Tyvek suit is stripping down a sculpture – one of the seven lively blue forms that stood like an abstract family outside the Swiss Pavilion in Venice during the 2017 art biennale. Another is welding a huge steel tube, which seems to have writhed into submission, crushed and doubled up on itself. Gordon Terry, Bove's husband and the studio's managing partner, is showing a couple around the huge space. 'He has oversight,' says Bove, 'but he's really doing his own stuff right now.' Terry, also an artist, is currently studying philosophy. 'We talk about Kant all the time,' adds Bove. She's laughing, but in all seriousness, her work is as much about the psychological as it is about occupying and disrupting the space around it, asking for an unconscious response to its often unlikely presence.

Bove's career has fairly cantered along since she completed her art studies at New York University in 2000. She first gained attention with her sparse arrangements on plain wooden bookshelves: magazines and publications from the 1960s and 1970s, and peacock feathers and shells, like minimalist cabinets of curiosity. Her work has since grown in scale as she works heavy metal into increasingly light forms. In 2013, for the final section of the High Line, she created six giant sculptures, including a Loch Ness Monster-style multiple loop of steel that spoke the same language as the old rail tracks and urban detritus around them. Last year, she reworked a classical sculpture garden at the Contemporary Austin in Texas with more steel loops, metal pieces finished in velvety car paint and elegant minimalist grids.
Born in Geneva in 1971, albeit to American parents, Bove was eligible to represent Switzerland in Venice, and she has referred to herself as 'spiritually Swiss', though she mostly grew up near San Francisco. Her studio, 1,580 sq m in all, is in the outlying, artist-favoured Brooklyn neighbourhood of Red Hook. On the waterfront, and cut-off by distance and a distinct lack of public transport, the area has the feel of a slightly abandoned seaside town, though some houses have now been architecturally enhanced and there are a sprinkling of cool oyster bars and smart wine shops.

Bove's studio is in a handsome, stone-built hangar that had once housed a small brick factory. When she took it on 18 months ago, initially as a place to plan out an exhibition at 1:1 scale, it was filled with silica dust. Now it is full of machinery that is as sculptural as the work it helps to create. 'We call this the crusher,' says Bove's studio director Teneille Haggard, pointing to a large red contraption from which a hefty weight is dropped onto steel tubing. Nearby is a bright yellow A-frame hung with heavy chains, also used to beat metal into submission.

If the process is brutal, the results, which sit serenely in the 'clean room' next door, are anything but. This is Bove's new work, which will soon be on its way to London for an exhibition at David Zwirner's Mayfair gallery. In its dazzling use of colour, it marks yet another new step on her artistic journey. 'I'm experimenting with a narrower set of variables,' she says. In one grand red work, the original steel has been manipulated into folds so soft and fluid it could be a close-up of Renaissance drapery. 'There's something very open-ended about it,' says Bove as the changing light deepens the shadows of its folds. 'It looks like taffy to me right now, but there are always new narratives, interstitial moments.' Others are assemblages of forms – that love of collage again – one in spring green and pink, colours that recall Memphis and the glass works of Ettore Sottsass. 'That pink makes me think of Sarah Lucas,' says Bove. 'It's fleshy, like pantyhose.'
Bove has never denied the direct influence of other artists' work. She has referenced John Chamberlain in her crushed metal sculptures, and the big boys of the 20th century such as Tony Smith and Anthony Caro in conversation and her forms. But the way she works is very much her own. 'My process is completely expressionistic,' she says of a method that allows the material to speak very much for itself. She never sketches, though she does walk around the studio endlessly manipulating pieces of brightly coloured Play-Doh in her hand. 'Not even the big work is prefigured by a drawing,' she says. 'It's spontaneous and improvisational. That's why I need the gantries and the hoists!'

An extra-large work, currently being born in the main space, was created by swinging together three massive metal plates more commonly seen patching up roads in the US. They come complete with found text scratched onto them, like scores in skin, and deep orange bursts of rust. 'First we had to put soft bends into them by leaning them upwards and driving over them with a sort of tank,' says Bove. 'Then I picked each one up with a separate crane and swung them together until they made a perfect kind of contact. That's where they are now welded together.' A red painted scrunched section of steel has been wedged into the space between them and studded with a black lacquered disc. 'There's a story of movement and pressure, force and softness,' says Bove.

This piece will be seen in June in Art Basel's Unlimited section, where galleries show their largest works. 'I like the idea of the human scale,' says Bove, 'but I like the idea of bigger too.' One suspects that, in that respect, she is far from reaching her limits.
As originally featured in the June 2018 issue of Wallpaper* (W*231)
INFORMATION
Carol Bove is at David Zwirner from 8 June – 4 August. For more information, visit the David Zwirner website (opens in new tab)
ADDRESS
David Zwirner
24 Grafton Street
London WS1 4EZ
VIEW GOOGLE MAPS (opens in new tab)