Camille Henrot's groundbreaking video piece 'Grosse Fatigue' arrives at the Gucci Museo in Florence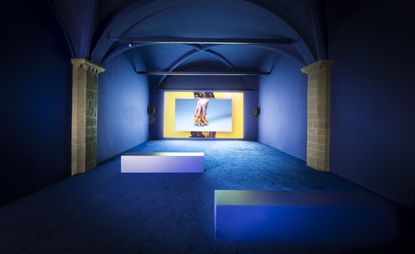 (Image credit: Alessandro Moggi )
Camille Henrot (opens in new tab)'s video piece 'Grosse Fatigue (opens in new tab)' stood out among the audio-visual clamour of last year's Venice Biennale (opens in new tab), earning the 36-year-old New York-based French artist the Silver Lion award for most promising newcomer and much critical credit. (Last month she also picked up the Nam June Paik award (opens in new tab), dedicated to the memory of the pioneering Korean electronic artist.) This month Grosse Fatigue arrives at the Gucci Museo (opens in new tab) for its first airing in Italy, proving once again that the label has far more to offer than handbags.

Henrot's work is hugely ambitious in terms of the media she mixes – including film, video, installation, music, illustration, photography and sculpture – and the themes she tackles with them. Seemingly channelling Terence Mallick, Brian Cox and Lévi-Strauss, among many others, Henrot takes on science, history, ancient and modern myth, religion, art and anthropology: the mysteries of evolution and cosmic chance and how we've tried to explain those mysteries.

Grosse Fatigue was the result of months of research at the Smithsonian Institute in Washington DC (opens in new tab). It features music by French electronic musician Joakim and the voice of slam poet Akwetey Orraca-Tetteh (opens in new tab), reading his own spoken-word poetry produced in collaboration with writer Jacob Bromberg. Alongside Grosse Fatigue, Henrot's found-object sculptural work 'Tevau' (2009) is also on show.
ADDRESS
Piazza della Signoria,10
50122 Firenze
Italy
View Google Maps (opens in new tab)