Bjarne Melgaard explores beauty in modern society amidst a riot of colour and synthetic hair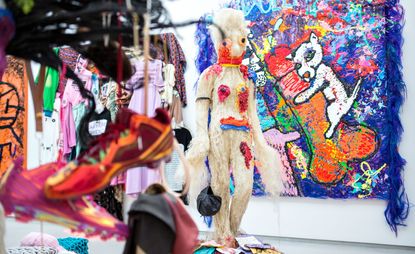 (Image credit: Philippe Servent)
Around the borders of the preparatory sketches for Bjarne Melgaard's latest show are annotations such as this one: 'Woman lying around abstract boudoir in hair / pieces of hair / woman made out of hair', or this: 'Face made up of make-up products and smeared make-up and hair framing the canvas / bearded woman with two dogs in her eye'.

As wonderfully Surrealist as this sounds, it hardly prepares you for the impact of the realised works occupying Thaddaeus Ropac's gallery in the Marais - perhaps because of the overwhelming application of synthetic hair, or maybe thanks to the riot of colour. Titled 'The Casual Pleasure of Disappointment', the 17 ballsy canvases, seven grotesque sculptures, seven additional patchwork dolls strewn flaccidly on knotted rope benches, and finally, one muppet in Melgaard's likeness come together as an eruption of vibrant vulgarity.
The sexual narrative running through much of the series is largely owing to Melgaard's fascination with Abuse of Weakness, a semi-autobiographical film from French director/writer Catherine Breillat. Seemingly portrayed as the artist's protagonist (her name appears on several canvases), she's often joined by lascivious, humanised dogs.

Perhaps unsurprisingly given the artist's history of collaboration, the show is the combined effort of several talents, most notably, heavyweight hair stylist Bob Recine, who met Melgaard in October when they were working together on a fashion shoot. Once the two New Yorkers agreed to meld their creative output, they took turns adding to each work, completely trusting the other's modifications. But who would have guessed that hair could be so expressive and versatile as a medium?

'Every time I would come to the studio, there would be something new there,' Melgaard told Wallpaper* days before yesterday's opening as installation began. 'There would be sketches and then a transfiguration of the sketch materialised - and with hair!'

Indeed, the custom-ordered hair cascades and puddles beyond the frames; it gets chopped, dyed and methodically arranged under resin; it acts as an outlining device tracing grotesque figures; and it curls around conventional, painted elements. Occasionally it even resembles an actual coif. And if you really think about it, what are brushes, if not a block of hair?

Meanwhile, make-up artist Kanako Takase worked simultaneously to rethink notions of applying make-up - whether as a sea of Chanel packaging (they estimate $25,000 worth of product) affixed to the canvas, or lipstick tubes disembodied and sculpted into new forms. The clothing, either functioning as an additional layer or as dress for the dolls, was designed by Andre Walker or Melgaard himself (one standout: the woven photo blanket ordered from Walmart that depicts the artist and his mother on a beach). Kwangho Lee contributed the seating - since the show requires more than a mere glimpse - and artist Susan Cianciolo pitched in as well.

'It's more extensive than the other ones,' Melgaard said of this collaborative undertaking. 'I think that my others always had more distance with them. This was much more organic. And also with the artwork, none of us knew what the result would be.'

But this fluidity invited Melgaard to consider 'universal, existential, logical questions' beyond the usual scope of his work. Or, as Recine put it, 'This was a voyage into mystery and power and deception and disappointment of beauty. It is Bjarne's inner understanding of beauty in a modern society. He went right to the source to creators like myself in the fashion world. He doesn't manipulate or control anything; he just lets it happen. The only direction we had was a similar point of view and shared principles of technique.'

The new series coincides with an exhibition at the Munch Museum that positions Melgaard's provocative style and subject matter in the context of Edvard Munch's relevancy today. Beyond a then-and-now juxtaposition of Norwegian art, Melgaard admits the link, at least for him, can be tenuous at times. 'His work is from another time, another world. On some levels, you connect to it; on some levels, you don't.'

But even if the same could be said of this show, Recine joked that the output from such outsized personalities renders its title self-fulfilling. 'I think when people come - and given what they're expecting - disappointment is the only zenith of what you're going to experience.' Which, in effect, is what makes the art such a delight.