Jack Pierson shares the stage with other artists at his show 'Tomorrow's Man' at Galerie Thaddaeus Ropac in Paris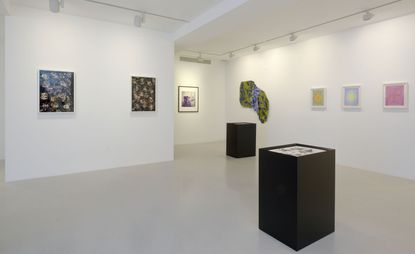 (Image credit: TBC)
For an artist whose work can be brash, explicit and loaded with pathos, Jack Pierson doesn't seem to want your attention. For his latest project with Wallpaper*, he lingered behind the camera to shoot the former home and studio of Tom of Finland (opens in new tab), the homoerotic artist who inspired a generation of contemporary pop artists - Pierson included. The homage to black leather and shiny pecs - incongruous against the sunny Echo Park, LA, backdrop - is the centrefold of our November 2014 issue.
In what is undoubtedly his month to shine, Pierson is also headlining a show at Galerie Thaddaeus Ropac (opens in new tab) in Paris. Yet rather than hold the public's focus, he's decided to curate a group exhibition focusing on a range of artists - young, old, even dead - other than himself.
'Tomorrow's Man', held at the Marais gallery until 19 November, began some months ago with a request by Roger Bywater of the Canadian publisher Bywater Bros to compile Pierson's work into a small monograph. The artist reckoned a better book would be made by inviting other little-known artists to contribute work alongside his own, piecing it all together in a sort of experiential scrapbook (opens in new tab).
With no real theme in mind, other than, perhaps, an affection for the male form, Pierson collected portraiture, old advertisements, ephemera and new works of art for 'Tomorrow's Man' the book, named after the bodybuilding magazine popular in mid-century America. Pierson plans to follow it up with a continuing series of volumes.
The exhibition is a natural 'second chapter', allowing visitors to look deeper into the art of Pierson's protégés. He's asked four artists from the book to bring dozens of pieces to show. Two of them have never been included in a gallery exhibition: Richard Tinkler, who colours intense geometric patterns that radiate outward toward the edges of the frame, and Evan Whale (opens in new tab), who creates immersive photographic installations from FujiFlex paper. 'They don't look like anything,' says Pierson, 'but they look great to me. They work because I feel them.'
Alex Jovanovich has contributed pen and ink drawings with dark, arcane imagery. And the artist and interior decorator Florence Derive is presenting a collection of old bedsheets, dyed with splashes of colour representing layers of artifice.
At the last minute Pierson added artwork by the late Rudolf Schwarzkogler (opens in new tab), an artist who, in his time, used his body as a canvas to portray the male form in uncomfortable transition. 'Dead artists should get just as much attention as young artists,' says Pierson.
ADDRESS
Galerie Thaddaeus Ropac
7 rue Debelleyme
Paris
VIEW GOOGLE MAPS (opens in new tab)