10 stops to make during Frieze Week in London
As Frieze art week approaches in London, here's our pick of what to see, and how to see it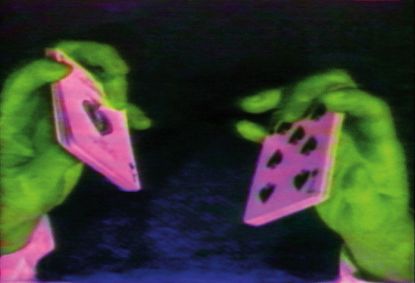 (Image credit: TBC)
In normal times, the London art world would be gearing up for the biggest event on its calendar. As we all adapt to a new rhythm of masked greetings, time-slotted bookings and elbow bumps, things will look and feel a little different for this year's Frieze Week.

But the shows must go on (within government Covid-19 guidelines), and this year, there's no shortage of physical and virtual art to get acquainted with. In place of its annual October fair, Frieze has opted for a hybrid model of online and offline activity including its viewing rooms (9-16 October), talks programme and live performances. On the ground, city-wide galleries and museums are unveiling new shows, and for those still craving the fair format, African art fair 1-54 will return to Somerset House with a reduced roll call of participating galleries.

In Mayfair, major blue-chip galleries – including Lisson, Sadie Coles HQ and Stephen Friedman – will flock around Cork Street, opening new (albeit temporary) spaces to create a hub for the festivities in lieu of their usual fair booths.
1. Frieze Sculpture – Regent's Park
With current circumstances considered, en plein air art viewing has never felt more appealing. Even with the lack of mega-tent presence this year, Regent's Park still promises to be a magnet for art enthusiasts. Frieze Sculpture will go ahead as planned with a show of 12 works by prominent international artists curated by Clare Lilley, director of programme at Yorkshire Sculpture Park. The display will feature new pieces by Patrick Goddard, Kalliopi Lemos and Arne Quinze. Fabio Lattanzi Antinori's LED sculpture, Ad Keywords, 2020, uses a live feed from Google Adwords to show the valuation of particular keywords in real time – a commentary on language, data mining and the darker side of consumerism. 5-18 October 2020.
2. 'Living Just Enough'– Goodman Gallery
At Goodman Gallery, a group exhibition is seeking to contextualise the global contemporary reckoning around structural racism and police brutality. The show takes its name from a refrain in Stevie Wonder's 1974 hit song 'Living for the City', which tells the story of a young Black man who faces adversity when he moves to New York from Mississippi. Among the artists featured in the show are Sonia Boyce, Arthur Jafa, Grada Kilomba, Faith Ringgold, Fred Wilson, Carrie Mae Weems, each of whom brings their own form of activism against social injustices and systematic violence. 6 Oct - 19 Nov 2020.
3. Laure Prouvost – Lisson Gallery
In Laure Prouvost's solo exhibition, 'Re-dit-en-un-in-learning CENTER', the artist has transformed 67 Lisson Street into an educational environment of sorts. Viewers will have the opportunity to 'de-learn or un-learn what they have forgotten they already know' as well as re-learn a language of Prouvost's own formulation. Here, the artist pushes the boundaries of imposed dialect through paintings, video, audio and 'tactile' experiences, pitting images against seemingly disparate text: flamingo = angry, bread = work, car = shoe. Also coinciding with Frieze week on 6 October, Lisson will open a new, temporary space on Cork Street with Horizon, a group show including work by Ai Weiwei, Mary Corse, Ryan Gander, Hugh Hayden and Anish Kapoor. 'Re-dit-en-un-in-learning CENTER', 6 October - 7 November, 67 Lisson Street.
4. 'Face to Face' – King's Cross Tunnel
'Face to Face' is a public exhibition curated by Ekow Eshun in partnership with the Fund for Global Human Rights, which champions transformational change through grassroots activists across the globe. The show will feature social documentary and portrait photography from regions where the fund operates: Africa, Latin America, South Asia, and Southeast Asia. Spanning a 90-metre-long space designed by architects Allies and Morrison in the King's Cross Tunnel, large-scale vinyl prints will be placed on a wall illuminated by LED lights. Each photographer has spent extensive time engaging with the communities they document, placing human experiences at the core of their work. Eshun assembled the photographers 'to highlight social documentary photography that functions as a form of engagement, dispensing with the ostensible objectivity of reportage photography and focusing instead on the subjective validity of lived experience.' Featured photographers are Alejandro Cartagena, Margaret Courtney-Clarke, Medina Dugger, Mahtab Hussain, Dhruv Malhotra, Sabelo Mlangeni, George Osodi and Kyle Weeks. 7 October - 1 November 2020.
5. Erika Verzutti – Alison Jacques Gallery
Through freestanding sculptures and tactile clay reliefs, Brazilian artist Erika Verzutti explores the excesses of the world and the superfluity of contemporary living. For her solo show at Alison Jacques Gallery, 'YEAR', the artist will present recent and new works including those in bronze, and a quartet of papier-mâché works. These visual fragments – humorous and playful as they appear – speak to history, politics and the digital world as well as the relentless news cycle and humanity's attempts to process uninterrupted and complex streams of information. Verzutti takes familiar, mundane objects – chocolate coins, eggs, seagulls – and spins them into something altogether new with works that blend sculpture, painting and relief. 7 October - 14 November 2020.
6. Bruce Nauman – Tate Modern
A show at Tate Modern will offer a deep-dive into the universe of ever-inventive American artist Bruce Nauman. Through sound, film, video and neon and performance, Nauman's work has inspired a generation of artists, including Tracey Emin. The major show, which is Nauman's first in London in over 20 years, demonstrates the full breadth of the artist's career through 40 works spanning 50 years. The show spotlights several of Nauman's seminal neon works, which often highlight his deft language manipulations and wordplay. One such piece, One Hundred Live and Die, alludes to advertising and examines the complexities and ambiguities that lurk beneath familiar words and expressions. Interactive installations such as Double Steel Cage Piece make for unnerving viewing and exemplify the artist's interest in mass surveillance and societal control. 7 October - 21 February 2021.
7. Gary Hume – Sprüth Magers
At Sprüth Magers, British artist Gary Hume will turn his attention to humanitarian crises of contemporary times in a new solo show. Works such as his Destroyed School series draw on archival press images of schools and classrooms destroyed or damaged by war and conflict. These paintings and drawings possess both an innocence, and a poignant atmosphere of mourning and loss. Hume also takes the lifejacket as a symbol for migrants voyaging on perilous boat journeys across the Mediterranean and the English Channel. This is incorporated into his Archipelago series alongside the form of the Yoni – the Hindu symbol for procreative female energy – as a symbol of life-sustaining power. Through bold colours and interweaving lines, Hume questions art's role in contemporary and historical catastrophe. 'Archipelago', 6 October – 23 December.
8. Meleko Mokgosi – Gagosian
For Botswana-born Meleko Mokgosi's first solo exhibition in the UK and Europe, the artist will confront the myriad ways in which Black subjects have become 'unattributed objects of empire'. Through striking large-scale painted works, 'Democratic Intuition' fuses religious iconography, advertising, and political propaganda from southern Africa and the United States to critique and address postcolonial nationhood, balances of power and democracy, or lack thereof. 'Democracy is incompatible not only with the foundational elements of the human subject, but also with the various systems and institutions that support dominant forms of subjectivity or humanism in general,' Mokgosi states. 'Democratic Intuition', until 12 December, Gagosian Britannia Street.
9. Carmen Herrera – The Perimeter
At the Perimeter, centenarian artist, Carmen Herrera will present a rarely-seen body of work created between the mid-1980s and early 1990s. These pieces, which the American-Cuban artist began planning in the 1960s, highlight a notable turn in Herrera's approach, where her sharp-edged geometric paintings took up a new life in sculptural forms. Ever the master of optical rhythms and boldly restrictive blocks of colour, Herrera continues to entice viewers with a pure abstraction that predated the minimal approach of her peers, including Ellsworth Kelly. 'I'm honoured to be opening an exhibition in London again, a city that has always held a special place in my heart,' says Herrera. 'Colour Me In', until 8 January 2021.
10. Ann Veronica Janssens – South London Gallery
At South London Gallery, Ann Veronica Janssens is taking light as her muse. Her show, 'Hot Pink Turquoise' is presented across three floors of SLG's Fire Station annexe and explores perception and transparency through sculpture, light installations and interactive environments. In the gallery's main space, viewers are greeted with Untitled (Blue Glitter), a sea of blue glitter scattered across the floor, which from some angles, appears suspended above the ground. From 28 October this work will be replaced by Bikes, 2001, comprising five chrome coated bicycles that viewers are invited to ride around the gallery on as light darts off the reflective wheels. 'Hot Pink Turquoise', until 29 November.
INFORMATION
Harriet Lloyd-Smith is the Arts Editor of Wallpaper*, responsible for the art pages across digital and print, including profiles, exhibition reviews, and contemporary art collaborations. She started at Wallpaper* in 2017 and has written for leading contemporary art publications, auction houses and arts charities, and lectured on review writing and art journalism. When she's not writing about art, she's making her own.