Nerves of steel: Bernar Venet's corten sculptures arrive in rural Buckinghamshire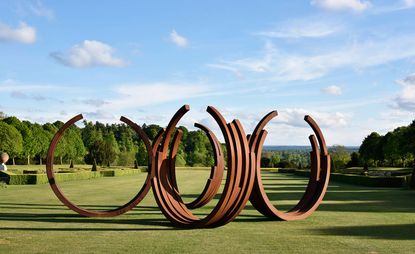 (Image credit: Jonty Wilde)
Bernar Venet has brought the South of France to Buckinghamshire this summer, transforming the English countryside into a contemporary imagining of the jardin à la française at Cliveden House – complete with the sweltering heat, but sadly without the artist's swimming pool.

All sculpture demands some understanding of mathematics and geometry, but Venet's art is a balancing act beyond the technical process. His large-scale outdoor sculptures – ten of which can be found in the spectacular setting of Cliveden's renowned Regency gardens – contemplate the harmony inherent in nature. The brown and russet hues of his favoured galvanised Corten steel also create a cohesion of colour in their environment, each casting crisp shadows across the lawns, an ephemeral extension of the heaviness of the sculptures, (each weigh between two and ten tonnes). 'I think they function very well,' Venet explains, 'or I would not have chosen to exhibit them outside!'

'I can tell you how long they take to make; it's very easy,' Venet said, speaking at an event at Cliveden on Friday. '65 years to consider, eight minutes to make the maquettes, and then it's two to three months to make them.'
To shed light on the background thinking to Venet's practice, BlainSouthern gallery – who partnered with the National Trust on the Cliveden project – is showing early works by the artist until 22 July back in London. Incredibly, it's Venet's first solo show there since 1976 and coincides with a new sculpture by the artist at this year's Frieze Sculpture exhibition in Regents Park.

'I like very much to exhibit my works inside, too,' Venet concedes. The artist has some of his own works inside his converted factory space in southern France, alongside other artists (many of them peers and friends — such as Judd, Stella, Flavin and Turrell), at the Venet Foundation in Le Muy, France. 'You feel the physicality of the work so strongly when it's indoors - but I try not to commercialise too much with little cuties! They are part of the process that helps me make the huge pieces.'

At the gallery, works on a more modest scale such as his seminal Pile of Coal (Tas de Charbon, 1963), known as the first ever sculpture produced with no ostensible form or dimensions, and the first example of a pure natural material presented as art, reveals Venet's quest to express the essence of forms and structures.

This is certainly the case at Cliveden, but you also can't help but make associations: the swirling shape of Indeterminate Line mirrors the movement of the water from Cliveden's iconic Italianate Fountain of Love, while the four, 9m high circles of Arcs in Disorder: 4 Arcs x 5 on the main lawn recalls a classical wreath. The most recent work at Cliveden, Seven Leaning Straight Lines, (2017), sets Henry Clutton's 30m clock tower in a striking new frame.
INFORMATION
'Bernar Venet at Cliveden' is at The National Trust Cliveden until 15 October. 'Bernar Venet, Looking Forward: 1961 – 1984' is at BlainSouthern London until 22 July. For more information, visit the Venet Foundation website (opens in new tab), and the BlainSouthern website (opens in new tab)
ADDRESS
The National Trust
Cliveden Rd
Taplow Maidenhead
SL1 8NS
Charlotte Jansen is a journalist and the author of two books on photography, Girl on Girl (2017) and Photography Now (2021). She is commissioning editor at Elephant magazine and has written on contemporary art and culture for The Guardian, the Financial Times, ELLE, the British Journal of Photography, Frieze and Artsy. Jansen is also presenter of Dior Talks podcast series, The Female Gaze.