Spiritual as ever, Axel Vervoordt reflects on his final exhibition at Palazzo Fortuny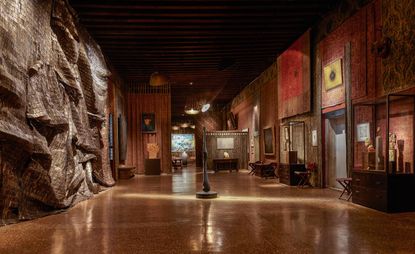 (Image credit: Jean-Pierre Gabriel)
Over the past decade, Belgian art dealer, antiques guru and all-round tastemaker Axel Vervoordt has put on exquisite exhibitions at Palazzo Fortuny, becoming an unbeatable highlight of the Venice Biennale's frenzy. As spiritual as ever, the sixth iteration – which, to the art world's dismay, will be the last – is devoted to the notion of 'intuition' and how it has shaped art across continents and historical periods.

'My wish is that, through art, visitors are invited to open themselves up and liberate their intuition,' says Vervoordt of the exhibition he co-curated with Daniela Ferretti, the director of Palazzo Fortuny – a gothic building in Campo San Beneto, formerly the studio of Spanish set designer and couturier Mariano Fortuny.

On the ground floor of the palazzo, visitors are greeted by an oddly functioning dialogue between a collection of Neolithic sandstone statue menhir figures, and a striking 1982 Jean-Michel Basquiat painting. Other notable works include paintings by Gustave Courbet, James Ensor and Cy Twombly; a specially commissioned performance piece by Marina Abramović; a series of works by surrealists like André Breton, André Masson and Paul Eluard (with a particular interest in their exploration of the subconscious, including automatic writing and drawings); and one of Anish Kapoor's round sculptures.
'Standing in front of it, is feeling the fullness of emptiness,' explains the Flemish collector of the imposing fibreglass and wood structure. 'It's a long, endless white tunnel of light. There's no time, no beginning, and no end.' And this somehow sums up Vervoordt's sense of taste and curatorial instinct – an open-ended search into universality and the philosophical concept of the void.

Known for his eclectic eye and his ability to gracefully mix old and new, the celebrities' favourite interior designer (his clients include Kanye West and Calvin Klein no less) played a significant role in the discovery of prominent post-war art movements like the artist groups Zero in Europe and Gutai in Japan (both enjoyed surveys at New York's Guggenheim in recent years).

'We've explored fantastic themes together, but now it's time for other projects,' answers Vervoordt when asked about the end of the acclaimed Fortuny series. Since 2007, it has addressed topics of time, infinity, transformation and proportion (sidelining in 2013, with a focus on the life and work of Catalan painter Antoni Tàpies).

And you can't blame him. Later this year, the hyperactive 69-year-old will be launching Kanaal, a residential and cultural complex in his native Antwerp, under the umbrella of the foundation he created with his wife, May. 'It's my intention to curate very personalised exhibitions, also with strong concepts, in these new spaces,' he tells us. So while this may be the end of the Venice era, it is certainly not the end of the Vervoordt era.
INFORMATION
'Intuition' is on view until 26 November. For more information, visit Axel Vervoodt's website (opens in new tab)
ADDRESS
Palazzo Fortuny
Campo San Beneto, 3780
30126 San Marco
Venice