Artist's Palate: Ron Arad's chicken tagine with olives and pickled lemon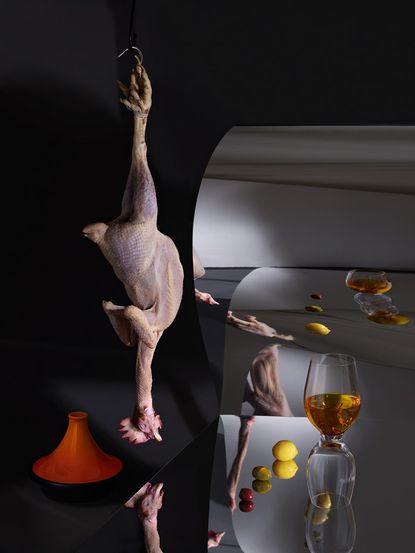 (Image credit: John Short)
Ron Arad's home town of Tel Aviv is host to any number of top-notch couscous shacks, and depending on your chef's Maghreb heritage, the couscous will be as fine as sand or plump as nuts. However, despite these examples of what is possible, Israeli home-cooked chicken and couscous often includes packet stock powder that is salty enough to act as an emetic. Not so the famously hat-wearing designer's recipe. He sticks to one chicken, the peel from one-and-a-half preserved lemons, saffron and olives, plus some herbs and spices. No stock powder. The tagine takes just over an hour. To do his homemade preserved lemons properly takes at least three weeks. You may want to plan ahead. Or buy a jar.

-----

Chicken tagine
Serves five as a main course

Ingredients
1.5kg oven-ready chicken
1 tsp salt
1 tsp ground white pepper
125g purple or green cracked olives, stoned
1½ pickled lemons (can be bought or home made, see Arad's recipe below)
50g butter
2 tbs olive oil
1 onion, finely chopped
3 garlic cloves
1 tsp ground ginger
100ml prepared saffron (see Arad's recipe below)
500ml water
3 tbs chopped fresh coriander
3 tbs chopped fresh flat-leaf parsley

Method
Sprinkle the chicken with half the salt and pepper, inside and outside, and set aside. Blanch the olives by plunging them into boiling water. Leave to boil for 30 seconds, then rinse under running water. Repeat these two operations twice more, changing the boiling water each time. Drain the olives and set them aside in a colander.

Remove and discard the flesh and pips from the pickled lemons. Rinse the peel and dry with kitchen paper, then cut into large slices and set aside in a small dish. Heat the butter and oil in a heavy saucepan, add the onion and fry gently, stirring frequently until softened and translucent. Add the garlic, ginger, saffron, the remaining salt and pepper and water and stir well to mix the spices thoroughly.

Add the chicken and turn it over to coat with the sauce. Bring to the boil. Lower the heat, cover the pan and leave to cook slowly for one hour, turning the chicken over several times so that all sides soak up the sauce. If necessary, add a little hot water during the cooking.

Add the olives, pickled lemons, coriander and parsley, stir, then cover and cook for 15 more minutes. Check the seasoning. Once the chicken is cooked, if the sauce is too runny, remove the chicken and set aside, covered with foil to keep it warm. Raise the heat and boil the sauce for five minutes to reduce. Put the chicken in a warmed tagine plate. Arrange the pickled lemons strips and olives on top.

Stir the sauce and quickly pour it over the chicken. Cover the tagine dish and serve straight away, very hot.

-----

Mom's pickled lemons

Ingredients
2kg lemons
1kg rock sea salt (or Guérande salt)

Method
Juice half your lemons to obtain enough juice to cover the preserved ones. Take the rest of the lemons and cut them into quarters, starting from the stem end, but make sure you stop before parting the quarters by leaving a centimetre to hold them together. Then, one by one, hold them in your hand with the quarters open like the four petals of a flower, and fill the gaps generously with salt.

Reform each lemon and fit as many as you can into a pickling jar, keeping them tight together to reduce the space in-between, then cover with the juice.

Tightly close the jar and keep in a dark, cold place for three weeks. Your lemon skins will be very fragrant and their citrusy flavour will be a balance between a fresh lemon's bitter kick and that salty, moist and mature comforting touch.

They are perfect for pepper or fennel salads or for your chicken stew. Also try puréeing a whole lemon, after thoroughly washing out the excess salt, to obtain a powerful paste that will transform any bluefish dish.

-----

Prepared saffron

Ingredients
1 tsp saffron strands will give 250ml of prepared saffron

Method
Heat a dry frying pan on a very low heat and toast the saffron strands very slowly, constantly checking and stirring with a wooden spoon, for 2–3 minutes. When the saffron strands have reached a deep red colour (not too brown), put them in a wooden mortar straight away. Crush them very finely while still hot. Pour the powder into a dry jar, making sure that you collect every precious grain, and fill the jar with 250ml warm water. Close it tightly and shake thoroughly to allow the saffron powder to dissolve in the water. The water will take on a beautiful orange colour. Leave to cool and refrigerate. Once prepared, saffron can be kept in the refrigerator for three or four weeks.
As originally featured in the May 2016 issue of Wallpaper* (W*206)
INFORMATION
Photography: John Short. Interiors: Matthew Morris. Food: Peta O'Brien