Smash hit: Ron Arad's first NFT drop takes things up a gear
Designer, artist and architect Ron Arad joins the NFT crowd with the help of curatorial platform Shifting Vision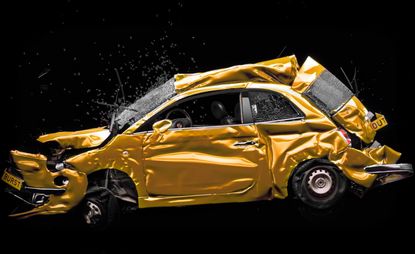 (Image credit: Courtesy of the artist and Shifting Vision)
In 2013, Ron Arad visited R Proietti, a London-based specialist repairer of original Fiat 500s. Arad explained that he was looking for a selection of Cinquecentos in a variety of colours, and was planning to crush them flat. Unsurprisingly, proprietor Stefano Proietti was not immediately on board. Summoning his considerable if mischievous charm, Arad explained that he too was a 500 lover and that his intent was to immortalise the cars, as a pressed flower eternalises an ephemeral bloom. Arad won Proietti over and he took six cars to a specialist in the Netherlands who could flatten them to his satisfaction.

These became the Pressed Flower series, part of the 2013 'In Reverse' exhibition at the (Arad-designed) Design Museum Holon near Tel Aviv. The show explored the relationship between physical and digital design and making, and between the flat sketch and the 3D model. 'Normally you make something from a drawing into something three-dimensional and functional,' Arad explains. 'I did the opposite. I took a three-dimensional, fully functional thing and I rendered it two-dimensional and non-functional.'
The show also included Slow Outburst, a digital simulation of a car being crushed by an invisible force and then reconstituting itself, created with the help of special effects studio Framestore, more usually employed on Marvel blockbusters.

These pieces are the basis of Arad's debut series of non-fungible tokens (NFTs). And the crushing and conceptual and commercial reframing of a Fiat 500 might be as nice an analogy as any for the promise of that technology. NFTs are like cryptocurrencies such as Bitcoin or Ether in that they are generally built using the same programming. However, unlike cryptocurrencies, they are not equal to one another and cannot be exchanged like for like (hence non-fungible). Each one is 'minted' in small numbers from digital objects such as music, animation, GIFs or avatars. Crucially, they use blockchains to register ownership and all sales thereafter; smart contracts can be coded in so creators get a piece of all future sales. But because they rely on blockchains, they carry the same reputational stink of scandalous energy use associated with cryptocurrencies. They are mostly in the news because last year an NFT by video artist Beeple was sold at Christie's for $69.3m, the third-highest price ever paid for the work of a living artist.

Arad is the first to admit that, like most people, he has a very limited understanding of the mechanics and potential of NFTs. But like most artists, he has been bombarded with calls from NFT-minting suitors telling him he should get a piece of the action. Arad is fascinated by emerging and not-yet-emerged technologies, so he just needed the right approach, the promise that he could create something enviable, to get him over the line.
That approach came from Tel Aviv-based Shifting Vision. Established in 2020 by entrepreneur and art and design collector Edouard Sterngold, Shifting Vision has already partnered with artists including Erwin Wurm, Isaac Julien, Rashid Johnson and Adel Abdessemed to create short films.

Sterngold says that, in the early days of the pandemic, he had a sense that art was resonating differently, but also that artists felt there was a greater disconnect between their work and what he calls 'actuality'. With physical galleries closed, artists had to think about how people engaged with their art. And at the same time, seismic socio-cultural shifts, such as the rise of the Black Lives Matter and #MeToo movements, were reframing their existing work. Shifting Vision would work with artists to create films that were more immediate, accessible versions of the monograph.

NFTs presented an opportunity to work with artists to create digital art that could reach a new audience. That pitch worked with Arad. 'I showed them stuff and they reacted to the right things,' he says. 'I liked the other artists they were talking to so I said, "Yeah, let's give it a go". And then it was just a matter of deciding what would be the right project to start with. Luckily, we are very rich in digital material.'
The animated version of Ron Arad's limited-edition cover creation, featuring Reverse Again, 2022, hand-painted on the artist's tablet. Presented in association with Shifting Vision, soundtrack by Dario Marinanelli.
Set to be auctioned in April, 'Reverse Again' is four lots of NFTs, including a reworking of the Slow Outburst film in an edition of 15 (each a different colour), a one-of-a-kind edition of Slow Outburst, and Little Yellow Car, an early video 'prototype' of Slow Outburst, also in an edition of 15. Meanwhile, Let's Drop it, OK? and Let's Drop it, OK? (Side View) are digital images of a collapsing Roddy Giacosa, the bent steel rod simulacra of a Fiat 500 Arad created for the 'In Reverse' exhibition, now produced in editions of 50.

The Arad collaboration is Shifting Vision's debut NFT project, but Sterngold has big and serious ambitions. 'As a technology, it is still 100 per cent potential and opportunity,' he says. Sterngold knows fine art NFTs are still relatively uncharted territory; it's his mission to convince established contemporary artists of the potential of NFTs, to help them figure out how and why the technology can work for them. As Shifting Vision's curator and project manager Jemma Elliott-Israelson says, 'The goal is to work with artists who are super-established and don't want to take big, stupid risks with their work.'

Sterngold is the first to admit that NFTs are still a difficult sell to many artists, but there is obvious low-hanging fruit. The initial appeal is to video artists who can now 'mint' editions of new video work. 'There's nothing to lose and all to gain,' he says.
He also argues that NFT smart contracts will encourage more cross-disciplinary collaboration, as all creative partners are guaranteed a piece of the financial pie. NFTs allow an artist to explore the potential of digital art, in whatever form, with a greater sense of security around ownership. 'If you're an established artist, you want to know what happens to your licensing and copyrights of your image after it's sold,' says Elliott-Israelson. 'We are trying to provide a safe space for artists to do this and then hopefully ignite a lot of creativity within them.'

'Artists need time to adapt and make the transition. Art shouldn't be created in a hurry,' concludes Sterngold. 'We'll go on a journey together with the artists. We'll test some things, we'll learn and we'll adapt.'
Shifting Vision produced a short film, directed by art director and filmmaker Giulia Magno, exploring the artistic process behind the creation of Ron Arad's NFT artworks. Shot in Arad's London home and studio, the film retraces the artist's long-standing fascination with the Fiat 500
This article was originally featured in the May 2022 issue of Wallpaper*, on newsstands now and available to subscribers.
ronarad.co.uk, shiftingvision.org
Receive our daily digest of inspiration, escapism and design stories from around the world direct to your inbox