Artist's Palate: Donatella Versace's pasta al caviale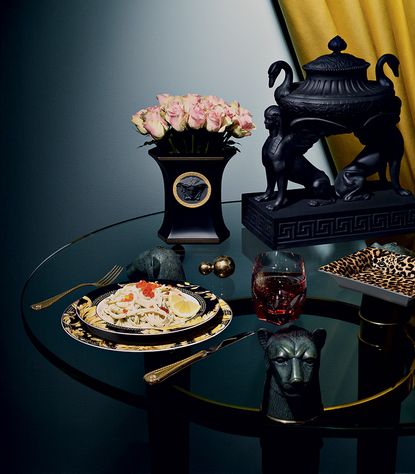 (Image credit: John Short)
Muse, critic, designer, entrepreneur, company saviour and first lady of fashion, Donatella Versace may have tempered the sex and theatricality of the family brand a little, but there's still glamour galore in her output and appearance. Her favourite dish of pasta and caviar 
is mostly associated with romantic couples dining alfresco on the Ligurian Riviera, rather than with her native Calabria, although ''s probably down to fewer visitors making it to the toe of the boot. It is a simple, high-quality and unfussy dish – made mainly with spring onions, parsley and cream – topped off with a dollop of the rarefied and distinctly flash. Now where can she have got that idea from?

Ingredients (serves 4)
3tbs unsalted butter
2 spring onions, including green
tops, finely chopped
3 or 4 grinds of the pepper mill
125ml mascarpone or sour cream
450g fettucine or linguine
4tbs flat-leaf Italian parsley, 
finely chopped
100g salmon or other red 'caviar'
1 lemon, quartered
4 sprigs of parsley

Method
Bring a large pot of salted water to the boil. Heat a large sauté pan over a medium heat, then add the butter. When the butter has foamed and the foam begins to subside, add the spring onions and a few grinds of pepper. Sauté until the spring onions are wilted (about one minute).

Add the mascarpone or sour cream and reduce the heat. Simmer for a minute or two. When the water comes to the boil, add the pasta. As the pasta cooks, simmer the sauce for another minute, then remove from the heat. Stir in the parsley and set the sauce aside until the pasta finishes cooking.

When the pasta is al dente, drain in a colander, reserving approximately 250ml of the cooking water. Add the drained pasta to the sauce and toss gently to combine. If the sauce seems too thick, add some of the cooking water, 4tbs at a time.

Divide the pasta and sauce equally among four plates. Let the pasta cool for one minute on the plates before garnishing with the caviar. (If the pasta is too hot, it will 'cook' the roe.)

Top each portion with a tablespoon or two of the caviar. Garnish each plate with a lemon wedge and a parsley sprig. Let each diner squeeze on his own lemon juice, to taste.
INFORMATION
Photography: John Short. Food stylist: Maud Eden