Artist Tauba Auerbach's debut London show at the ICA brings mathematics down to earth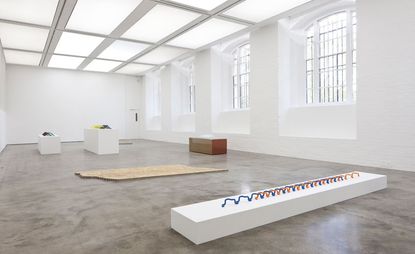 (Image credit: Paul Knight)
Did the artist Tauba Auerbach know that her exhibition at London's ICA would launch on a palindromic day, at the centre of a palindromic week? On 4-16-14, as per the style used in her New York home, the ICA's Lower Gallery will unveil 'The New Ambidextrous Universe', a show preoccupied with symmetry, and based on an eponymous scientific text that explores mirror images and left/right parity.

Everything about Auerbach's first solo exhibition in the UK feels fittingly balanced, from the building's classical façade to the gallery interior, with its wall of repetitive louvres. There are just seven pieces here - all new works - but there might as well be double that number, given that they should be viewed from both sides to be fully appreciated. Accordingly, the artist has given them ample space to breathe.

Auerbach's approach is precise, rigorous and mathematical, even if the results appear to have an organic quality. That is part of their genius, perhaps. For instance, her studies of 'chirality' - when an object is not identical to its mirror image - inspired a trio of sculptures featuring interlocking forms in powder coated-steel.

Their shape is governed by knit stitches and hook-and-eye dress closures, and they're executed in complementary colours (blue and orange; indigo and yellow; rust and turquoise), not unlike Auerbach's 2011 jewellery collection for the fashion brand Ohne Titel. 'She based them on the twists of asymmetrical helix forms,' explains ICA head of programmes and curator Katharine Stout, 'but they are also about the everyday.'

Symmetry and asymmetry are concepts that have enthralled artists and writers back to Immanuel Kant and Lewis Carroll, so it's no wonder you can go down something of a rabbit hole trying to understand the topology of each piece. Auerbach's most recent work is a three-sided glass spiral that unwinds across a metal plinth painted with an iridescent 'chameleon' paint, which takes on a lustre ombré effect in the light from the symmetrical bank of south-facing windows.

The show's centrepiece is one of two plywood and aluminium floor sculptures, water jet-cut in rippling slats to resemble a still pond disturbed by a stone. Entitled 'The New Ambidextrous Universe III', it arrived at the gallery, says Stout, in a rectangular formation. But Auerbach proceeded to remove slats from either side with either hand and exchange them, in a pattern of her own mathematical devising, so that the opposite ends are 'chiral' - slightly asymmetrical mirror images of each other. It was an ambidextrous act that moved her 3D object into a fourth dimension, through the looking glass.
ADDRESS
Institute of Contemporary Arts
The Mall
London SW1Y 5AH