From Oslo with love: Erling Kagge's art collection goes on show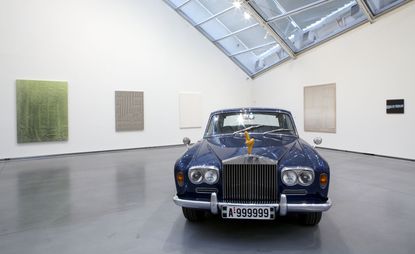 (Image credit: Astrup Fearnley Museum)
Wallpaper* Newsletter
Receive our daily digest of inspiration, escapism and design stories from around the world direct to your inbox
Thank you for signing up to Wallpaper. You will receive a verification email shortly.
There was a problem. Please refresh the page and try again.
Erling Kagge's exhibition 'Love Story,' a contemporary art collection that emphasises youthful anarchy, pop euphoria, and probing post-conceptual artists. Pictured here is 'Rolls Royce Adaptives' by Franz West. He made six hood ornaments, one for each day of the working week.
Around the waterfront in Oslo, you can experience what the director of Norway's Institute for Contemporary Art has called the city's 'dynamic moment'. Scaffolding signals a new wave of cultural destinations that will join existing gems such as the Opera House, the ambitious Ekeberg sculpture park, and a high concentration of artist-run spaces.

Beside the Oslofjord is the sweeping glass roof of the Renzo Piano-designed Astrup Fearnley Museum, which now houses an intriguing collection of contemporary art, titled Love Story. It belongs to Arctic explorer, lawyer, publisher, and all-round thrill-seeker Erling Kagge.

Having sailed repeatedly across the Atlantic, conquered the 'Three Poles' - North, South, and the summit of Everest - and reached the cover of Time magazine, Kagge began to seek challenges from the world of art. The result is a collection that emphasises youthful anarchy, pop euphoria, and probing post-conceptual artists.

Kagge's collection includes comprehensive bodies of Raymond Pettibon, Franz West, Tauba Auerbach, Trisha Donnelly, Sergej Jenson, Klara Lidén and Wolfgang Tillmans. In a book he has published for the exhibition, A Poor Collector's Guide to Buying Great Art, Kagge compares collecting to his exploits as an explorer. He likes to gamble on artists early in their careers, buying them in big quantities, and moving on when they become established.

The main theme of Kagge's collection is not a theme at all, but an unresolved quality. 'I find it difficult to love what I understand. Great art to me is strange', he says, 'I strongly believe you sometimes have to break rules to feel free'. He likes artists who embody their work, and has a special affinity for Trisha Donnelly: 'It is as though her personality has taken form'.

While most people who turn to collecting because they've done everything else have terrible taste, Kagge's boldness and curiosity have served him well.
The collection is on show at the Astrup Fearnley museum, designed by Renzo Piano and situated beside the Oslofjord in Norway. courtesy of Astrup Fearnley Museum
The sloping roof of the museum which was completed in 2012. courtesy of Astrup Fearnley Museum
Kagge has a special affinity for artist Trisha Donnelly. Pictured here is 'Untitled' (2007), 'Enamel on fabric,' and 'Portikus, Frankfurt am Main' installation (2010).
A room devoted to Swedish artist Klara Lidén. Kagge says, 'as an urban explorer, I identify with Klara's projects and the idea of having access to locked houses, tunnels and bridges.
Work by Wolfgang Tillmans, 'Freischwimmer 118' (2005), and 'Venus Transit, second contact' (2004).
'Yellow Door Semicircle' (2008), by Olafur Eliasson, the artwork is made up of a spotlight, tripod, mirror and colour projection foil.
Works by Raymond Pettibon, Kagge says, 'I have lived with his art for fifteen years, and somehow it never bores me.'
This sculpture is called 'Kaleidoscope City' (2004) by Olafur Eliasson. Pictured in the background are paintings by Tauba Auerbach.
ADDRESS
Strandpromenaden 2
0252 Oslo
Norway
Receive our daily digest of inspiration, escapism and design stories from around the world direct to your inbox