Artist Marcello Maloberti creates a public installation for the Zegna Foundation in Trivero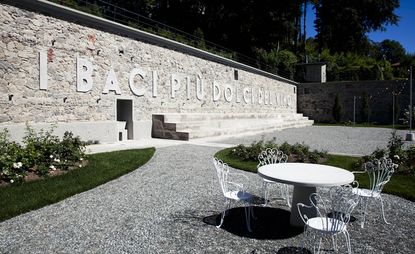 (Image credit: TBC)
Now in its fifth edition, the Zegna Foundation (opens in new tab)'s 'All'Aperto' (opens in new tab) has become one of the more quietly interesting public art programs anywhere; long-term and responsive to local needs rather than an excuse for civic grandstanding.

The artists Daniel Buren (opens in new tab), Alberto Garutti, Stefano Arienti and Roman Signer have already designed permanent and site-specific works in Trivero in Northern Italy, where Zegna is headquartered and has its textile mill (see issue W*134). Opening on October 5th, the latest artistic intervention in the town is Marcello Maloberti (opens in new tab)'s 'I baci più dolci del vino' (Kisses Sweeter than Wine), a new public space in what was an abandoned patch of ground - once used for bowling, amongst other things - near the Zegna factory.

Maloberti's installation includes a 15 variety-strong rose garden with ornamental fruit trees (Maloberti has collaborated with Marco Nieri, an expert in 'bioenergetics'), on concrete tables designed by the artist, a half-moon neon sign and the title of the work spelt out in concrete letters. He has worked with local groups and school children in developing the space and they will take part in its opening ceremony.

The artist and the program's curators, Andrew Zegna and Barbara Casavecchia, hope that the new space will become a venue for events and celebrations and centre of community activities. We spoke to the curators and the artist to find out more.

ANDREA ZEGNA AND BARBARA CASAVECCHIA
W*: Why did you think Marcello Maloberti was the right person for this particular commission?
Andrea Zegna and Barbara Casavecchia: 'Kisses Sweeter Than Wine' will be Maloberti's first permanent public work, so maybe he wasn't an obvious choice. But we knew his work very well. And we were interested in the collective structure of his performances that often take place outside, in the public sphere, as open, festive and unfiltered encounters with the viewers. Our project is titled All'Aperto, which means outdoors, so we thought that Marcello could open up a new form of dialogue with the local community. He surprised us with a proposal that was very different from his previous projects - that's the beauty of working site-specifically.

It's a permanent public space, which is a great responsibility for the artist. How specific were you in terms of a brief? What ideas did you have about what the new space should be?
Yes, a public commission is a huge responsibility: the work will be there every day, across time, without any frame to define or protect it. But it's also a challenge and a rare opportunity, for an artist. This time, we suggested the idea of a garden, among others. But we didn't give Marcello any brief, except the usual one: work outside, try and understand the context, see the local public as your first audience. The space was chosen by the artist together with some members of the local associations we had helped him to meet.

Did you insist that Maloberti - and previous artists involved in All'Aperto program - consult with the people of Trivero?
We think it's important and enriching to connect with the people of Trivero, but every artist is free to proceed as he or she prefers. There are no set rules.

And how have the locals responded to previous works?
Curiosity, surprise, indifference, pleasure, interest: all the responses are individual, and it takes time to make a project grow. One of the goals of All'Aperto is to develop new ways of looking at this area, but also to produce works that are as 'accessible' as possible, in line with the philosophy of the Fondazione Zegna. The collaboration with the local schools is crucial: there are kids who have been involved in three editions, by now, sometimes with their whole family, as was the case with Alberto Garutti. For his project, 'The Telepathists' (opens in new tab), Stefano Arienti created a free wi-fi network, which is used by many inhabitants. Maybe it's not immediately clear that it's art, but that's a good sign, we think. And the public seems to grow at each opening.

All'Aperto is a unique public arts program. How long do you think you can keep it going?
The 2014 edition is in progress and we are at work on the 2015 edition too. Let's be optimistic!

MARCELLO MALOBERTI
W*: This is a permanent public space. Does that mean you have to put your own ego aside in some ways and try and come up with a piece (and a space) that people will enjoy being in? And that they will keep enjoying long into the future?
Marcello Maloberti: That's true although it's more accurate to say that the project was born from the encounter between my sensibility and that of the citizens of Trivero. The future of the garden will depend on their willingness to live in this place.

You had a series of consultation meetings and workshops with local groups? What came out of those?
I had several meetings with the members of local associations. During our first meeting, they showed me the place where the garden stands today; it was a neglected area that they wished to see re-evaluated. Month after month, I got to know some of them, and many of the ideas I had on the garden's design arose because of our discussions together.

How much is the piece a response to the space? In what way?
The place where we chose to create the garden, on the terraces of the Centro Zegna, was once home to several bocce fields, and was a traditional meeting place for the community. We thought about how we could give the town a new meeting place, a space that people could take care of, and where they could have shared moments. This place was already present in people's memories. It was used for bocce but also for musical evenings and dancing. Our garden is designed to bring to life some of these memories and to continue the collective tradition linked to this space.

And where does the title come from?
The title is a quotation from Salomon's 'Song of songs' in the Bible, a hymn to love and delight. I hope that, accordingly, the visitors of our garden will be delighted to inhabit it.

You say it is a space open to change. How do you think the space will evolve over time? And in what ways?
The space is designed to be used everyday. People can relax alone or with friends. It can host special events. We planted dozens of roses, all white, and trees. Nature will decide the garden's shape, step by step, together with the inhabitants, who will have chose how to take care of this place.

Have you referenced the history of the place in your piece?
We have included a long relief inscription, made of concrete, on the garden's retaining wall. It spells out the work's title and uses the graphic style of the commercial signs of the Centro Zegna. You can still read fascist propaganda slogans on the walls of some of the houses in Trivero. In a sense, our inscription contrasts with the permanence of those messages, offering instead an image outside the logic of persuasion, open to interpretation, which brings with it a vision about the idea of delight.
ADDRESS
Casa Zegna
Via Marconi, 23
13835 Trivero (BI)