ZegnArt enlists Reena Kallat to create a site-specific artwork in Mumbai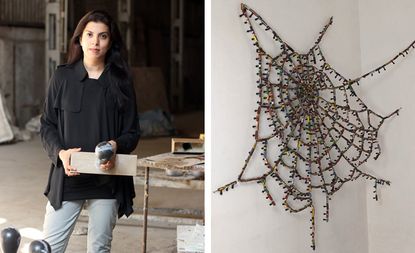 (Image credit: TBC)
Delhi born, Mumbai-based artist Reena Kallat (opens in new tab) has made a career out of ironising the often hair-tearing world of bureaucracy. Since her start in the mid-1990s, the key tool to this trade has been a rubber stamp. Seemingly innocuous, the pocket accessory for public officials across the globe, is a certain visual cue that you're in for a protracted, painful wait in a government-run room with bad lighting.

Kallat loves the simple, yet heavily charged, symbolism of a rubber stamp. Whether printing its inky effects, collaging it into mosaic portraits or stacking 30,000 individual stamps (each bearing citizenship information on immigrants in Pakistan and India) as she did for her colossal 'Untitled (column)', log sculpture in 2011, the stamps instantly conjure the idea, as she puts it, 'of the individual in a sea of humanity.'

The artist's engaging social and political themes have put her on the short list of 'ones to watch' in her native India. It's no surprise, therefore, that Ermenegildo Zegna (opens in new tab), purveyor of the world's finest wool fabrics and finished suits, cherry picked her out of the national talent pool as the first artist to ignite its ZegnArt Public (opens in new tab) project.

One of three art initiatives under the ambitious new ZegnArt (opens in new tab) umbrella, Public commissions one artist in three emerging markets - India in 2013; Turkey and Brazil in 2014 - for a piece that will then be donated to a museum within their native home. The ambitious project aims to support both radar skipping talent as well as local institutions that are in need of a boost.

'It's ironic that in a city as big as Mumbai where there are vast spaces, there aren't many opportunities for public art,' Kallat said during her most recent visit to the Zegna headquarters in Milan, where she praised Zegna's initiative. 'Museums can play a role beyond conservation. They can help build communities where all religions and classes can come together. I want to engage the city at large.'

Luckily for her, she will, thanks to Zegna and the site-specific piece she was commissioned to create for the Dr Bhau Daji Lad Museum (opens in new tab) in Mumbai. The work, 'Untitled (Cobweb/Crossing)' will be unveiled during an exhibition on 2 March.