'Architectones' by Xavier Veilhan at Sheats-Goldstein House, LA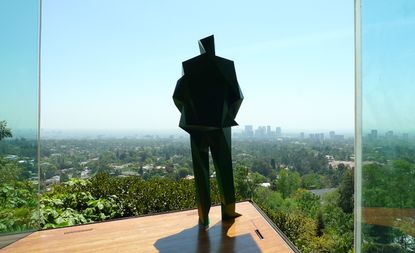 (Image credit: TBC)
French artist Xavier Veilhan (opens in new tab) continues his multi-venue 'Architectones,' installing site-specific work in notable works of architecture around the world. After interventions at Richard Neutra's VDL House (opens in new tab) and Pierre Koenig (opens in new tab)'s Case Study House No 21, Veilhan (opens in new tab) now opens the doors to John Lautner's Sheats-Goldstein House, giving the public a rare opportunity to view a private home recast as an art piece.

Unlike the more domestic atmosphere of the VDL House, Veilhan says the Sheats-Goldstein 'is almost like a prop. It's so related to moviemaking and also it's so spectacular.' The home has been the backdrop of movies such as The Big Lebowski and Charlie's Angels, as well as the subject of countless photo shoots. Rather than overpower this already striking space, Veilhan instead intervenes with subtlety.

Perched atop canyons in Los Angeles, the Sheats-Goldstein is arresting with a dramatic, coffered ceiling living room that radiates out to the horizon as a majestic triangular overhang. Veilhan takes the strong geometric roofline and connects it to the pool below by stretching cords from the roof to the pool's perimeter below, creating one of his signature 'Rays' structures.

In the master's bedroom below, Veilhan places a prismatic bright green aluminum sculpture of the tall and commanding Lautner looking out over a precipice, recreating a historical photograph taken of the architect and his creation and giving it a bold, new flavour.

Smaller pieces can be found throughout the home. A bronze miniature of the architect, the homeowner and his dog is a nod to the home's history. 'Pyramids,' based on Alexander Graham Bell's experimental kite structures, echoes the home's strong triangular theme. An acetate disc used to press a record is cut into a triangle and framed, while a specially composed piece by Air's Nicolas Godin (opens in new tab) wafts through the whole space.

Modernist architecture has long been a muse for Veilhan's work, even inspiring his limited edition subscriber cover for our April issue, which combined the forms of Le Corbusier (opens in new tab)'s Cité Radieuse (opens in new tab) with the modernist visual arts of Kazimir Malevich. The Sheats-Goldstein House project - curated by Francois Perrin and organised by Xavier Veilhan studio and Galerie Perrotin (opens in new tab) - may be the artist's third intervention in Los Angeles, yet his energy for the project has not dimmed. 'This is a treat for me,' says Veilhan. '[Architectones] is not only about the pieces, it's also about the experience of the space.' Veilhan continues his interventions this June at the Cité Radieuse (opens in new tab) in Marseille.