The Anni Albers retrospective at Tate Modern anticipates 100 years of Bauhaus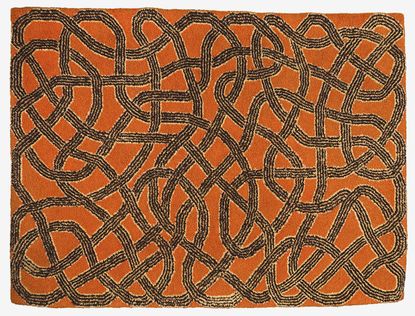 (Image credit: Courtesy of Herbert F Johnson Museum of Art,Cornell University)
Wallpaper* Newsletter
Receive our daily digest of inspiration, escapism and design stories from around the world direct to your inbox
Thank you for signing up to Wallpaper. You will receive a verification email shortly.
There was a problem. Please refresh the page and try again.
'Where do the creative spheres of the technician and the artist meet?' asked Bauhaus founder Walter Gropius in 1926. For artist, teacher and textile pioneer Anni Albers, the meeting point was a weaving loom – a humble tool that she would transform into a vehicle of innovation.

Anticipating 100 years since the founding of the Bauhaus, Tate Modern is hosting Albers' first major UK retrospective, following an extensive exhibition at the K20 museum in Düsseldorf. Tracing a production line of 350 studies, wall hangings, jewellery and prints, and reinforced by Albers' seminal books, On Designing and On Weaving, the exhibition provides a rounded chronology of the methodology and research of perhaps the most influential textile designer of the 20th century.

The Bauhaus was a manifesto made flesh, a creative powerhouse disbanded by Nazis before it could reach full force. For Hitler, it was the Jewish threat incarnate; for those who attended, it promised a new, liberal mode of education. Having joined in 1922, Albers soon became intrinsic to the rationalist, functionalist Bauhaus, and the Bauhaus in turn became a work of living art.

Shortly after arriving as a student on the Weimar campus, Anni Fleischmann (as she was then known), married her teacher, Josef Albers, drawn by their mutual devotion to abstraction. The young couple relocated to the Dessau campus in 1926; Josef began his post as junior master and Anni began giving warmth to the often sterile architecture of modernism.
Anni Albers in her weaving studio at Black Mountain College, 1937

Although gender policy at the Bauhaus was supposedly egalitarian, women were still spurned from certain disciplines; Albers sacrificed painting (her first love) and fell into weaving by default. 'The rule was, women were weavers,' explains Torsten Blume, research associate at the Bauhaus Dessau Foundation. 'Women were seen as soft and too weak for serious thinking. The strange thing is, weaving was the most intellectually challenging workshop at the Bauhaus.'

Albers reveled in the flexibility, complexity and unforgiving rigidity of the loom, refining her distinctive 'pictorial weaves' in the workshop she first described as 'rather sissy' but would come to lead. 'Circumstances held me to threads and they won me over,' she wrote, decades later.

In 1933, the Albers fled Germany to America, travelling to Mexico, Cuba, Chile and Peru. Anni became enthralled with ancient South American weaving techniques, tying historical 'craft' weaving with the vocabulary of modern art, then spinning both into architecture.

In her own words, Albers' textiles 'find a form for themselves... not to be walked on, only to be looked at.' But her work did find function, as free-hanging room dividers and acoustic implements. Six Prayers, a meditative six-panel Holocaust memorial woven in cotton linen, raffia and stiff metal yarn, was an especially powerful example of an art form she revolutionised.
With Verticals, 1946, by Anni Albers, red cotton and linen. The Josef and Anni Albers Foundation, Bethany CT. © 2018 The Josef and Anni Albers Foundation/Artists Rights Society (ARS), New York/DACS, London. Photography: Tim Nighswander/Imaging4Art

Albers relentlessly toyed with materials including horsehair, silk, chenille, cotton, jute and even cellophane, which lent iridescence to her work. 'She articulates the way handweaving can become a laboratory,' says art historian Briony Fer, who curated the exhibition at Tate.

The artist's looms are presented here as an extension of her body and weaving as a discipline demanding rhythm, foresight and sensitivity to material. 'Being creative is not so much the desire to do something as the listening to that, which wants to be done: the dictation of the materials,' Albers said.

Albers continues to influence a thread of contemporary creatives including fibre artist, Sheila Hicks – who studied under both Anni and Josef – and fashion designer Paul Smith, who is currently crafting a limited-edition line of Albers-infused knitwear.

The exhibition is not only a merited celebration of the artist's work, but also an argument against the spurious division between art and craft. 'Galleries and museums didn't show textiles, that was always considered craft and not art. When it's on paper it's art,' Albers remarked in 1984. Fatefully, it was only thanks to prints produced in her latter years that the artist ultimately gained the recognition her weaves were so long denied.
INFORMATION
'Anni Albers' is on view at Tate Modern from 11 October 2018 – 27 January 2019. Organised by Tate Modern and Kunstsammlung Nordrhein-Westfalen, Düsseldorf. For more information, visit the Tate website
ADDRESS
Tate Modern
Bankside
London SE1 9TG
Receive our daily digest of inspiration, escapism and design stories from around the world direct to your inbox
Harriet Lloyd-Smith is the Arts Editor of Wallpaper*, responsible for the art pages across digital and print, including profiles, exhibition reviews, and contemporary art collaborations. She started at Wallpaper* in 2017 and has written for leading contemporary art publications, auction houses and arts charities, and lectured on review writing and art journalism. When she's not writing about art, she's making her own.