From scissors to snails, venture into the weirdly wonderful world of Annette Messager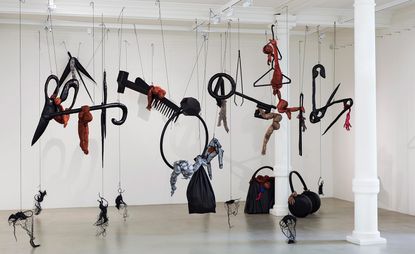 (Image credit: TBC)
Contemporary art seems to find itself in a constant battle between the logical and the illogical, the possible and the impossible, the visible and the invisible. Is it better to be understood, or to understand something about the world? Do we have to explain everything? Should we even try?

This seems to be the question at the heart of Annette Messager's first exhibition at Marian Goodman in London, and her first major appearance since her 2009 show at the Hayward Gallery. Messager, a somewhat eccentric, euphemism enthusiast, who has won various awards for her art, presents a series of visual riddles that offer the viewer both an easy route and a hard one. Cryptically titled 'Avec et sans raison' (with and without reason) the French visual artist plays with all kinds of materials and symbols, in a cavalcade of artworks that prod at both your instinct and your intellect, and leave neither in tact.

For example, the 30 pendant sculptures that make up Daily (2016), including a giant safety pin, comb, key and pair of scissors, make you feel like one of The Borrowers, dangling threateningly above your head, while inexplicable works like 3 Escargots-Seins (three snails-breasts) and Le Bras Chassure, (the arm shoe) seem to have come straight through the proverbial looking glass.
Easier to decipher are Messager's 'vengeful' uteruses, a dominant presence in the exhibition space: there's a new sculpture, the very pink Tututerus (2017), attached to a frothy leotard bobbing in the air blowing from a nearby electric fan, and of course, her Wallpaper Uterus (2017) covering several expanses of wall with different uterus designs.
What Messager successfully shines a light on is our own ability to be utterly - and uterally - perplexed. 'Avec et sans raison' is the perfect presentation of what the writer Albert Camus might call the 'absurd': the tussle with our own desire to understand everything, while fully realising that we don't know anything.
INFORMATION
'Avec et sans raison' is on view until 27 May. For more information, visit the Marian Goodman Gallery website (opens in new tab)
ADDRESS
Marian Goodman
5–8 Lower John Street
London W1F 9DY
View Google Maps (opens in new tab)
Charlotte Jansen is a journalist and the author of two books on photography, Girl on Girl (2017) and Photography Now (2021). She is commissioning editor at Elephant magazine and has written on contemporary art and culture for The Guardian, the Financial Times, ELLE, the British Journal of Photography, Frieze and Artsy. Jansen is also presenter of Dior Talks podcast series, The Female Gaze.