Amy Sherald's vivid, triumphant portraits reframe Black personhood in Western art
In 'The World We Make' at Hauser & Wirth London (until 23 December), American painter Amy Sherald raises critical questions about the position of Black bodies in Western art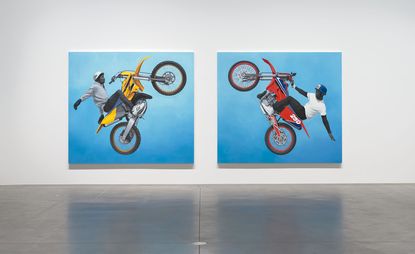 (Image credit: Amy Sherald, Courtesy the artist and Hauser & Wirth, Alex Delfanne)
A notion that often goes unchallenged in the liberal media landscape is the idea of representation as a quick fix for all race relations-related plights. While the holding of space by Black figures in historically white arenas is of course a necessary act of transgression, how these figures articulate temporal discourses around the positionality of Blackness and the Black body in the Western canon is of far more importance.
Occupying the spot where contemporary painting and body politics converge, American portraitist Amy Sherald opens her first European solo show 'The World We Make' at Hauser & Wirth London. You have likely encountered her work before. Upon rising from relative obscurity Sherald went on to paint the official portrait of the 44th First Lady of the United States of America Michelle Obama and the Vanity Fair cover image of Breonna Taylor, whose unjust killing by the American police force was one of the catalysts for 2020's summer of protests. However, in 'The World We Make', Sherald returns to her roots. presenting paintings of family, as well as unknown Black people, individuals she encountered on the streets of Baltimore − where she lived for a long while before moving to New York. The show is accompanied by a monograph of the same title which features all the paintings on view at Hauser & Wirth, essays on her work by Kevin Quashie and Jenni Sorkin as well as behind-the-scenes photographs of her process.
Throughout the exhibition, Sherald's visually stunning works pop in bold primary colours. Within them rests hints at the possibility of a paradigm shift and the tools for the transformation of consciousness. A diptych of two Black men on raised dirt bikes as if reenacting a jousting scene on horseback hangs on a wall. On another, a Black farmer atop a tractor peers at you as though ready to converse, an outward gaze that serves as a recurring motif in the majority of Sherald's works. What intrigues about this particular presentation from the artist is the abundance of depictions of Black manhood, a stark contrast to the representations of womanhood for which Sherald is most famous. Of the ten paintings on display seven depict men, firmly positioning masculinity at the heart of the show.
On a guided tour of the exhibition, which spans two halls, led by Sherald, we discussed the centrepiece of one showroom, titled For Love and For Country. The piece reimagines the iconic photograph of a man and woman kissing in Times Square on VJ Day. Here she replaces their white bodies with Black ones in her signature grayscale palette which she elucidates in an effort to circumvent hierarchies of personhood associated with caste. Sherald also replaces the woman in the infamous kiss with a man, back bent and languishing in the same position as in the source image, highlighting alternative modalities of Black being.
The subjects face each other rather than outwardly, a decision made because the piece is 'about visibility. So I think it worked for the gaze to not be outward', she explains. 'There are so many kisses in art history and I have people in my life who I care about that I want to see represented in art history too.'
In the penultimate chapter of Black feminist scholar bell hooks' book Art On My Mind: Visual Politics, the author calls to attention the integral role feminism and the civil rights movement played in the transformation of public discourse and consciousness around body politics. She shines a light on the ways in which Black men have historically been viewed as 'more body than mind' bound up in 'racist paradigms of subjugated embodiment'. Referencing Kobena Mercer's essay Fear of a Black Penis, she adds, 'Any liberatory visual aesthetic of the Black male body must engage a body politic that critically addresses the way in which racist/sexist iconography refigured within the framework of the contemporary fascination with the "other" continues to be the dominant backdrop framing the way images are created and talked about.'
Mercer's essay was released in 1994, hooks' book in 1995, yet today some three decades later, our white-supremacist capitalist patriarchal society continues to intertwine notions of Black manhood and sexuality with violence and hypermasculinity, notions which are turned on their heads in For Love and For Country.
Sherald's paintings raise important questions about Black personhood and our positionality within art history. However, the questions that arose in my mind as I left the gallery were those surrounding context. In the years following our summer of protests, we've seen a huge increase in demand from galleries for figurative paintings of Black life. As these paintings of the Black quotidian hit critical mass and more artists fold to the demands of curators, what does continually platforming these works mean for the future of Black art within the context of the museum? Moreso at a time when rampant capitalism has created conditions in which artists can barely find time to think, breathe and conjure up new aesthetics. Is repeatedly saying Black people exist and deserve to be a part of the Western art canon enough? Is creating spaces for white audiences to have mediated encounters with Black bodies sufficient? Though there remain uncertainties, Sherald's works push us to initiate such conversations, and also smuggle in critiques of these systems under the guise of placidity.
INFORMATION
'The World We Make' is on view at Hauser & Wirth London until 23 December 2022. hauserwirth.com (opens in new tab)