Artist Amanda Williams on race, social space and the power of colour
Chicago-based artist Amanda Williams – tipped by architect Frida Escobedo as one of 25 creative leaders of the future in Wallpaper's 25th Anniversary Issue '5x5' project – uses colour to dissect politics, urban landscapes and Black social space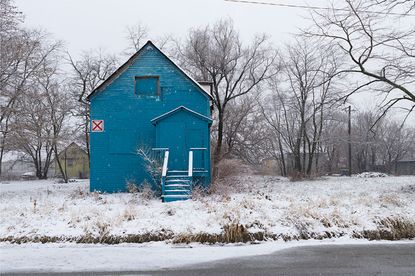 (Image credit: press)
'I'm imagining colour through a social, political, cultural, and economic lens. I'm speaking about race, society, and the city', states Chicago-based visual artist Amanda Williams.

Williams uses colour to illustrate the ways race informs the value we assign to spaces. Her exhibitions, which have taken place at the Venice Architecture Biennale, MoMA in New York, and the Museum of Contemporary Art in Chicago, challenge viewers to look at urban landscapes in new ways.
She credits her training as an architect at Cornell University for honing her unique appreciation for space. 'It gave me an understanding of spatial practices, and the technical ability to shape how people occupy and move through space. It also gifted me a rigour and mindset for making. A reverence for iteration, practising, and testing.'
One of Williams' most notable works to date, Color(ed) Theory, explores how definitions of colour can be reimagined through Black culture. The project comprises a series of eight houses slated for demolition, in the Chicago neighbourhood of Englewood. By painting and photographing these neglected structures, Williams draws viewers' attention to the underinvestment in African American communities across the city.
For the project, Williams created a unique colour palette, naming the employed tones after items, places, and spaces that resonate with the Black community, such as Pink Oil Moisturizer, speaking to the lotion that enriches and revitalises Black hair; and Harold's Chicken Shop, a nod to Chicago's popular fast-food restaurant founded by African American entrepreneur Harold Pierce. Other colours include Ultrasheen, Newport 100s, Crown Royal Bag, Flamin' Hot Cheetos, Currency Exchange and Safe Passage.
'When people ask me what colour that is, I say, "The right audience doesn't need it to be described."' People of the African diaspora know that Ultrasheen is the turquoise-hued hair product used to grease the scalp and promote hair growth. 'It's fascinating for me to see the disorientation and distortion that takes place with language and terminology when oscillating between disparate environments,' says Williams. Color(ed) Theory, was exhibited at MoMA, and recently featured in The New York Times' '25 Most Significant Works of Postwar Architecture'.
'Embodied Sensations', a solo show at MoMA in spring 2021, dealt with questions of who gets to control their bodies and how they move through space. 'I used this shared sense of disorientation and uncertainty brought on by the global pandemic to remind audiences that for many populations, in my case as a Black woman, the physical and social constraints and limitations felt by Covid-19 protocols are an everyday and lifetime occurrence.' For this exhibition, Williams created a performance piece from a collection of prompts associated with movements that were performed by visitors.
Amanda Williams: 'I feel fortunate to be able to ask difficult questions'
Later this year, Williams will be part of a group exhibition 'Social Works II' at Gagosian London and will have a standalone booth at Art Basel Miami with Rhona Hoffman Gallery. At the Storefront for Art and Architecture in Manhattan, she is showing a year-long project titled 'What Black Is This You Say', which emerged during the pandemic as an Instagram series but has now shifted into watercolours, oil paintings, and public work.
'I feel fortunate to be able to ask very difficult and troubling questions about why Black people around the globe still have to fight daily just to exist. This is a spatial question but also one that art, design, and architecture played a part in fostering,' Williams says.
She believes that now is the time for Black artists and designers to flourish and not simply be present or merely acknowledged. 'Lately, I have been interested in what it means to prosper. Joy is a critical part of that equation. Prosperity inherently implies a kind of liberation and self-determination, and who wouldn't be happy about that? Contemporary Black artists have embraced this and are showing a wide array of examples of how it might be applied to material, form, and aesthetics. I've been exploring this explicitly in projects like We're Not Down There, We're Over Here, which was a part of MoMA's 'Reconstructions' exhibition.'

Williams raises questions about the city, draws our attention to racial undertones, and challenges us to think about political issues in modern society. Through her paintings, installations, and exhibitions, she reminds us that 'There is no day when colour isn't present.'
INFORMATION
'Social Works II', 7 October – 18 December 2021, Gagosian Grosvenor Hill, London
gagosian.com (opens in new tab)
awstudioart.com (opens in new tab)
A version of this article appears in Wallpaper's October 2021, 25th Anniversary Issue (W*270), on newsstands now and available to subscribers – 12 digital issues for $12/£12/€12 (opens in new tab). Meet more creative leaders of the future nominated by architect Frida Escobedo here.