A Mexican art revolution takes shape at London's Royal Academy of Arts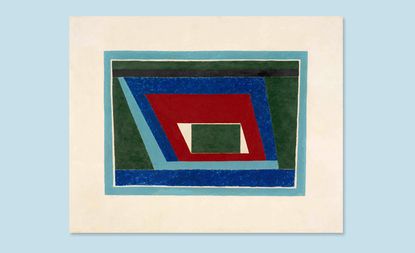 (Image credit: Josef and Anni Albers Foundation)
There was clearly quite a buzz about Mexico among between-the-wars European and American creative sorts, particularly photographers. The Royal Academy's new show - Mexico: A Revolution in Art (opens in new tab)- offers up not just the inevitable (but always welcome) Diego Rivera and Frida Kahlo, as well as a fantastic collection of prints of a magnificently mustachioed Zapata by José Gaudalupe Posada, but also photography from Paul Strand, Edward Weston, Tina Modotti, Robert Capa and a brilliant young Henri Cartier-Bresson, as well as work by Josef and Anni Albers, and Andre Breton.

The ten years of revolution between 1910 and 1920 and then the public art programs sponsored by the new Ministry of Education, headed by José Vasconcelos, made Mexico a draw for international intellectuals. Vasconcelos tempted Rivera back from Paris to paint murals alongside David Alfaro Siqueiros and José Clemente Orozco (they would soon be invited to do similar north of the border as part of the Public Works of Art Project). Weston, with Modotti in tow, also soon arrived from the US. DH Lawrence swung by and Weston's portrait of Lawrence is included in the RA's show.

The pair inspired a generation of Mexican photographers, including Manuel Alvarez Bravo who worked with Cartier-Bresson, who had arrived in Mexico in 1934 as an adventurous 24-year-old. The Albers made the first of their thirteen trips to Mexico in 1935, while André Breton came to hang out with Rivera and Kahlo, and Antonin Artaud came to take peyote.

Mexico: A Revolution in Art then is the story of a remarkable period when the country, and Mexico City especially, was home to a constantly refreshed and cross-fertilising artistic community (though a good deal of leftist sectarianism ensured that relations were not always copacetic). All of which makes for a fascinating little show, worth the admission for the photography of Bravo and Cartier-Bresson, and Albers' chromatic experiments, alone.

Address
The Royal Academy of Arts
Burlington House
Piccadilly
London W1J 0BD
VIEW GOOGLE MAPS (opens in new tab)