Renzo Piano's first ever school building revealed in Shenzhen
A brand new outpost for Whittle School & Studios by Renzo Piano Building Workshop lands in Shenzhen's Qianhai district, with an emphasis on creativity and emotional wellbeing, and inspiration from traditional Italian urban planning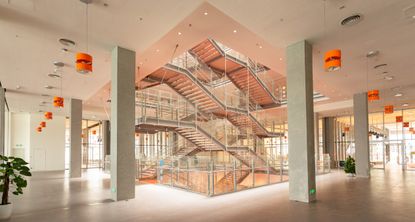 (Image credit: JiaHao Zhou)
Italian architect Renzo Piano has designed his first school: a 57,000 sq m campus on reclaimed land in Shenzhen's Qianhai district, the first of 36 interconnected Whittle School & Studios campuses planned to open in 15 countries over the next decade. The eight-storey campus for 2,000 students is based on an architectural concept that can be adapted to other sites, conditions and building codes.

The Pritzker-prize-winning architect's inspiration came from traditional Italian urban planning. However instead of the customary piazza where people meet, the ground floor is open-plan with a café for parents, and a large staircase and skylight at the centre of the building around which classrooms, a state-of-the-art gymnasium, theatre and spaces for specialized learning such as music and coding rooms are arranged. There is an early learning centre with its own entrance and professional canteen facilities.

A cable-supported glass façade means there are fewer internal structural columns and infuses the interiors with natural daylight. Piano believes this transparency and activity encourages a vital sense of connection within the local community. 'A school is not separated from life,' he explains.
The design reveals the school's innovative focus on creativity and emotional capacity as well as learning with a 4,650 sq m workshop space for interdisciplinary project-based work and flexible classrooms that can be made larger and smaller depending on needs. Tables can be placed in a circle and walls are designed as pin-up areas - like Piano's signature architectural studio displays in Genoa, Paris and New York. There are also plenty of communal spaces for students and smaller, more intimate breakaway areas. Walls are simple concrete and bright orange furniture provides a pop of colour.

The whole campus demonstrates Piano's trademark focus on creating buildings that are simple and intuitive to navigate with seamless connections to outdoor gardens and play areas, colour coded areas and bright graphics. The perennial problem of school traffic is elegantly resolved by a dedicated basement drop off and collection zone. Vehicles need bar codes to make pick-ups safer and easier.

The new campus is part of an impressive master plan for the whole district, which will include luxury high-rise apartments, retail, cultural and sports facilities and a new train line.
INFORMATION
rpbw.com (opens in new tab)