ODDO Architects, Vietnam + Czech Republic: Wallpaper* Architects' Directory 2022
Wallpaper* Architects' Directory is our annual round-up of exciting emerging architecture studios. ODDO from Vietnam and the Czech Republic is the newest addition to our 2022 list, with this urban Vietnamese house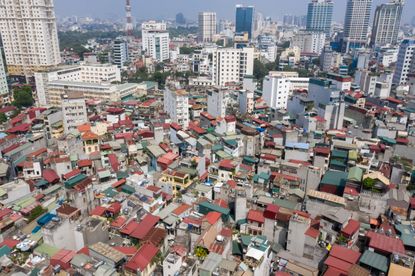 (Image credit: Hoang Le)
Partners Marek Obtulovič, Nguyễn đức Rung, and Mai Lan Chi launched ODDO Architects in 2016; fast forward six years, and their studio has made it into the Wallpaper* Architects' Directory 2022, our annual list of exciting emerging practices from across the globe. Here we explore one of its projects, a naturally ventilated, urban Vietnamese house.
Who: Oddo Architects
Based between Vietnam and the Czech Republic, ODDO Architects is led by partners Marek Obtulovič, Nguyễn đức Rung, and Mai Lan Chi. ODDO's broad portfolio contains designs for restaurants, landscaping, resorts, studios and homes. Highlights include playful cylindrical wooden light structures and a catwalk-inspired birdhouse, demonstrating a fun and explorative tone in the studio's approach.
Aside from its adventurous designs, ODDO is keen on making the most of sustainably sourced materials, having used repurposed timber and fast-growing locally sourced wood in its projects. The studio's residential work in Vietnam, including TH House (pictured), showcases 'hit and miss' brickwork, a style of masonry that allows gaps between blocks, encouraging the breeze to travel through. Subtle glass doors ensure foliage is visually present within buildings, creating playful areas between inside and out. Similarly mindful of their context and surrounding conditions, houses built by Oddo in the Czech Republic tend to follow the country's vernacular, while still making ample use of the open natural spaces that wrap around the houses.
What: TH House
Designed as a family home with communal living in mind, TH house in Hanoi features almost no internal walls. Its five floors are linked by a disjointed staircase that runs through the rooms at the front and back of the building. Each room has sliding doors for privacy, but these are all designed to remain open as much as possible in order to maintain airflow and light throughout the home. Voids in the sides of each level allow light to come in from above, while trees planted on the floor below can grow upwards and have a presence on more than one level.
In the landscape of heat and compact living that is Hanoi, the studio needed to maximise the space it were given for this project, as well as ensure that passive cooling systems are in place for a comfortable living experience. Foldaway tables and bespoke desks fitted into nooks maximise the internal space. Shadows cast by the foliage, lattice structures in the walls and metal mesh flooring gently dampen the sunlight's presence in the house. Plants also serve to balance the textures of the white, stone and grainy wood surfaces, with everything coming together to create a moment of calm in this built-up and buzzing city.
Why: Wallpaper* Architects' Directory 2022
Conceived in 2000 as an international index of emerging architectural talent, the Wallpaper* Architects' Directory is our annual listing of promising practices from across the globe. While always championing the best and most promising young studios, over the years, the project has showcased inspiring work with an emphasis on the residential realm. Now including more than 500 alumni, the Architects' Directory is back for its 22nd edition. Join us as we launch this year's survey – 20 young studios from Australia, Belgium, Canada, Chile, China, the Czech Republic, Ecuador, France, Greece, India, Indonesia, Japan, Nigeria, Paraguay, Thailand, the UAE, the UK, the USA, and Vietnam with plenty of promise, ideas and exciting architecture.
INFORMATION
Receive our daily digest of inspiration, escapism and design stories from around the world direct to your inbox
Martha Elliott is the Junior Digital News Editor at Wallpaper*. After graduating from university she worked in arts-based behavioural therapy, then embarked on a career in journalism, joining Wallpaper* at the start of 2022. She reports on art, design and architecture, as well as covering regular news stories across all channels.
With contributions from