Family ties: Unsangdong Architects improve familial bonds through architecture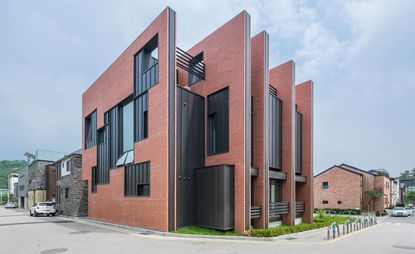 (Image credit: Sergio Pirrone)
Family life can be challenging – we've all slammed doors, we were all teenagers once. And designing for family life can be even more challenging – balancing privacy with communal living, considering the diverse requirements of different generations, and their relationships with each other.

Interested to play with the concept of the 'wall', Unsangdong Architects has employed a diplomatic programme for a large family living in the suburbs of Seoul in Gyeonggi-do, which uses the wall as a device for encouraging inter-familial communication. Who would have thought building a wall (Donald Trump's foreign policy aside) could actually help to build relationships?

This scheme was a response to the requirement of the client to house three generations under one roof. 'As a large family, they requested the first floor to be divided by a main space for grandmother and a shared space for the family and the second floor to be a space for the couple and their two daughters, but have it be made so they are independent yet together,' says YoonGyoo Jang, principal architect at Unsangdong Architects.
Responding to these different purposes of space was important and rooms are clearly delineated as autonomous boxes, yet Jang also designed moments that would integrate circulation and create diagonal sightlines inside the two-storey house. Connecting spaces join private rooms with communal areas and on the upper floor a courtyard opens the rooms up to the landscape.

The exterior of the red-brick house is quite severe geometrically, with extending wings that are reminiscent of how steel or glass are often used. 'It was the client's request to use bricks and they asked us to choose the color and texture freely. Though brick as a material has advanced in size, color and texture we wanted to return to the basis of the image of a house and chose the basic size and color of red bricks to create Wall House,' says Jang.

Disrupting the classic red-brick house prototype, the architects exposed the brick inside the house too, using its materiality as a design feature to create unity between indoor and out, while adding exposed concrete, black steel and birch wood to balance the heaviness of the brick with more materiality.
INFORMATION
For more information, visit the Unsangdong Architects website (opens in new tab)
Harriet Thorpe is a writer, journalist and editor covering architecture, design and culture, with particular interest in sustainability, 20th-century architecture and community. After studying History of Art at the School of Oriental and African Studies (SOAS) and Journalism at City University in London, she developed her interest in architecture working at Wallpaper* magazine and today contributes to Wallpaper*, The World of Interiors and Icon magazine, amongst other titles. She is author of The Sustainable City (2022, Hoxton Mini Press), a book about sustainable architecture in London, and the Modern Cambridge Map (2023, Blue Crow Media), a map of 20th-century architecture in Cambridge, the city where she grew up.
You might also like
The System Lab founder Chanjoong Kim on style and evolution

The Wallpaper* Architects Directory has turned 20. Conceived in 2000 as our index of emerging architectural talent, this annual listing of promising practices, has, over the years, spanned styles and continents; yet always championing the best and most exciting young studios and showcasing inspiring work with an emphasis on the residential realm. To mark the occasion, this summer, we're looking back at some of our over-500 alumni, to catch up about life and work since their participation and exclusively launch some of their latest completions. South Korean Architects Directory alumnus The System Lab has gone from strength to strength since its 2016 inclusion, with work expanding from private homes to masterplanning, housing and impressive commercial work. Here, we speak to founder Chanjoong Kim to explore the studio's evolution and latest work.

By Ellie Stathaki • Last updated
View More ▸