Step inside Villa Lucca, the low-density, luxury seaview residences in Hong Kong
The Villa Lucca development offers 262 contemporary Hong Kong apartments and houses with enviable views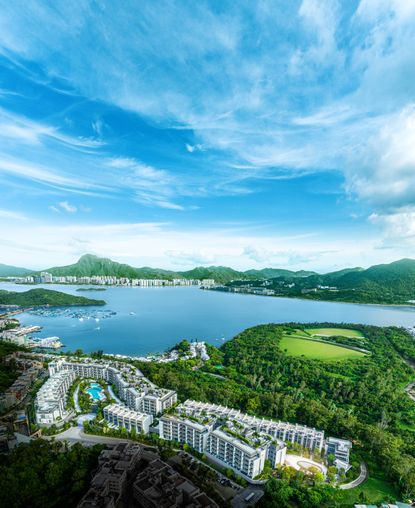 (Image credit: Courtesy HKRI)
In partnership with Hysan Development and HKR International
Villa Lucca, with its panoramic views over the Plover Cove Reservoir and Tolo Harbour, is a new residential development located in Hong Kong's north-east New Territories region. It presents a contemporary and luxurious interpretation of the private club residency. Contributors to the project include renowned architects and designers, whose inspirational design and meticulous workmanship create a lavish and enjoyable living environment.
While the Pat Sin Leng Mountains tower above the location in the distance, Villa Lucca is purposefully low-rise, as well as low-density. The 14 apartment blocks are just five storeys high. They contain 226 apartments, each with between two and four bedrooms, and spanning from 1,010 to 3,760 sq ft.
In addition, there are 34 four- to five-bedroom, European-style family houses, of 3,245 to 5,341 sq ft, as well as two signature houses, at 8,030 sq ft and 6,268 sq ft.
Villa Lucca, Hong Kong: Architects and designers
Across all the properties, the aesthetic is considered, elegant, discreet and contemporary. The developers, Hysan Development and HKR International, invited best-in-class creative talent to contribute to the project's architecture, interior design and landscaping.
To create interior spaces characterised by soft, dappled light, US-based architects Olson Kundig – in the role of design consultant – conceived cantilevered roof planes and trellises, which provide protection from the sun and elements. All Villa Lucca houses are have a unique carport, with a design inspired by the wine cellars of European castles, courtesy of Hong Kong-based studio Via. Meanwhile, project architects DLN, also Hong Kong-based, instigated a 'split-road' design, keeping vehicles and pedestrians safely apart and creating a great canvas for landscaping.
In the grounds, award-winning local landscaper Adrian L Norman (ALN) promoted a contemporary interpretation of natural alpine luxury. The practice conceived tree-shaded boulevards, the Lucca Avenue and the Villa Avenue, to connect each block and every house, as well as the three garden areas, in a consistent visual theme. Rapidly maturing, the site has over 100,000 sq ft of green, landscaped areas, and more than 1,000 trees, spanning around 55 different species.
Charged with the apartment interior design, Norman Chan – founder of local studio BTR Workshop – looked to simple and contemporary elements to create a welcoming atmosphere in the expansive layout. Kitchens and bathrooms feature material contrasts of wood, lacquer and stone. Spacious living rooms offer floor-to-ceiling windows, optimising light and views and emphasising the 3.3m ceiling height. Each apartment comes with a private lift lobby and the majority of them have a back of house area to offer a luxury living experience.
In the development's houses, Frank Leung, principal of Via, opted for palettes distinguished by a striking materiality, with timber and richly grained marbles creating a sense of tactility. The views to the outside span the sky, seascape and mountains. As an example of the spacious interiors, 2 Villa Avenue features lofty, 4m-high ceilings and double-height entrance foyers, dining rooms at around 8m by 6.2m, and kitchens at around 3.3m wide. Modulnova cabinets and Gaggenau appliances make the kitchens suitably chic and efficient.
The clubhouse by David Collins Studio
It was left to the UK's David Collins Studio to conceive the magnificent interior space of the over 34,000 sq ft Club Lucca, offering around 30 recreational facilities, including 25m indoor and 42m outdoor swimming pools connected by a spiral staircase, a humidor and tasting lounges, a gym, a dance studio, a spa, a luxurious banquet hall, a library and children's play areas.
Marble flooring and fine furniture feature in hues that complement the lush and soothing surrounding greenery. 'Our studio blended geometry, symmetry and angles to effortlessly evoke charisma and orchestrate an aura of classical British charm,' says David Collins Studio's creative director Simon Rawlings.
The indoor pool glistens with a light-reflective 'Glass Ripple Shift Panel', created by Dutch designer Rive Roshan, while mosaic specialist Pierre Mesguich, whose company Mosaïk has bases in London, Paris and Barcelona, was commissioned to create a large-scale work on a clubhouse wall. Employing glass of different shades and colours with gold and silver foils, this hand-painted artwork features floral patterns that nod to the verdant surroundings.