Video: The Pavilion by Sanaa, Serpentine, London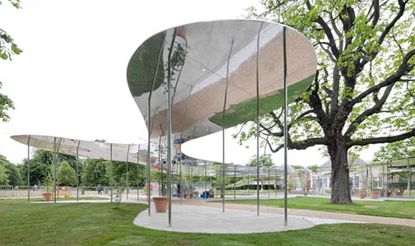 (Image credit: press)
Kicking off back in 2000 with Zaha Hadid's suitably swooping offering, the Serpentine Gallery (opens in new tab) Pavilion project (sponsored by NetJets Europe) has, each year since, introduced a specially commissioned pavilion to London's Hyde Park. With Alumnus including Rem Koolhaas and Olafur Eliasson, this year sees the turn of Kazuyo Sejima and Ryue Nishizawa of Japanese firm,Sanaa (opens in new tab).
Watch a video interview with the architects and tour the pavillion
see more images of this year's pavillion and past work from Sanaa
Best known for their toppled, cubic addition to the New York skyline - in the shape of the New museum of Contemporary Art (opens in new tab) - the pair have been practicing under the collaborative title for over a decade, and their paired down architectural approach can be witnessed in cities across the globe with the Prada Beauty building in Hong Kong and the Christian Dior building in Tokyo.
Set to sit upon the gallery's lawn for the duration of the summer, the Pavilion itself, in the words of the architects, is like 'floating aluminum, drifting freely between the trees like smoke.' With no walls and no sense of physical restriction, SANAA's Pavilion is fixed, like a floating oil slick, upon a sparse collection of wispy columns.
Taking a birds-eye view, the giant, looping aluminum roof that comprises the pavilion sits like a giant silver paint splodge, next to the rather more traditional architecture of the Serpentine itself. Designed to act as an extension of the park, SANAA hope their addition will protect summer revelers from the highly variable elements.
SANAA's first built structure in the UK, the pavilion contains space for a cafe and a theatre - within which performances, talks and film screenings will take place throughout the Pavilion's four months in residence.
ADDRESS
Serpentine Gallery
Kensington Gardens
London
W2 3XA