Nicholas Szczepaniak reinvents a London canal-side residential conversion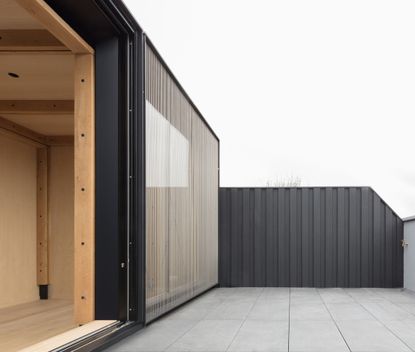 (Image credit: Nicholas Worley)
A drab canal-side house converted from a factory has been reinvented with sleek new interiors and a one-off roof extension. The 1990s house, Union Wharf, sits on the Regents Canal in London's Islington. It had been fashioned out of a post-war factory, and suffered from cellular rooms, timber laminate flooring and a roof-top conservatory that leaked heat.

The most striking change made by Nicholas Szczepaniak Architects is the replacement of that energy-inefficient top room. In its place is a steel and timber pod with visible cross-bracing on one side, which was devised with the help of structural engineers, Blue. The smart new space has a small en-suite, so that it doubles as a guest room and study. Steel cables are strung vertically in front of some of the glazing, to diffuse the direct sunlight. Light comes into the stairwell via glass bricks and a porthole, which references the boats below.
Take an interactive tour of Union Wharf House

On the ground floor, the problem was a lack of character and good usable space. Szczepaniak moved the kitchen into the converted garage and took a wall down, so that the kitchen is connected to the dining area. The previous kitchen has been turned into a playroom for the client's young family, which can be cordoned off by a 2m by 2m fluted glass sliding door.

More lovely fluted glass has been used in the kitchen, for the specially-made rotating window shutters. 'They were borne out of real issue, because the house is directly on the canal towpath,' explains Szczepaniak. 'Previously the owners had to have ugly metal shutters and a black-out blind to stop people looking in.'

With the enlarged roof-extension and clever reconfiguring on other floors, this three-storey house has gone from being 150 sq m and tired to 163 sq m and highly-functional.
INFORMATION
For more information, visit the Nicholas Szczepaniak Architects website (opens in new tab)