Johnston Marklee's UCLA Margo Leavin Graduate Art Studios completes
Los Angeles architecture firm Johnston Marklee completes the UCLA Margo Leavin Graduate Art Studios in Culver City, a constellation of artist studios that makes for a vibrant creative neighbourhood for the campus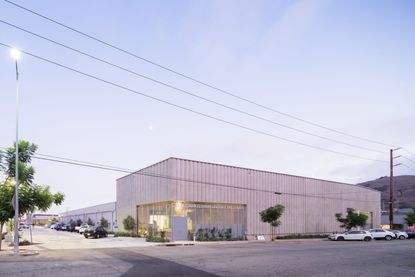 (Image credit: Photography: Iwan Baan)
On an industrial back street in the construction heavy Hayden Tract area in Culver City, California, behind the PLATFORM lifestyle shops and next door to Jordan Kahn's Destroyer Café, UCLA is making life better for its art students. The recently completed UCLA Margo Leavin Graduate Art Studios is a massive concrete and wooden warehouse campus that enhaces the progressive artistic renaissance of the area.

Led by partners Sharon Johnston, FAIA, and Mark Lee, of Johnston Marklee, the building can be entered through a communal courtyard area with several Acacia trees. Immediately, the principal design concept of the project becomes apparent. The acclaimed firm won the project in 2011, and the scheme, including restoring an existing warehouse with new programs and labs, was originally funded by Eli Broad as a feasibility study. Then, in 2015, UCLA alumni and lead donor, Margo Leavin, came forward to help them see the project to fruition.

Designed for LEED Gold certification, the project was created following sustainable strategies, including the specialist renovation of the existing cast-in-place concrete walls and soaring open wood bowstring truss roof structure, along with a new horizontal steel truss system required for seismic retrofit and new PVC roofing membrane.
'I think the big idea was that the warehouse became a neighbourhood of studios, so all of the artist studios are in that space,' said Johnston. 'They range from 40 to 42 students every year and the word "neighbourhood" is important and you'll get a sense of how we plan things so it doesn't have an institutional endless hallway feeling.'

Counter to a typical campus, the building flows through a public gallery space, to a shootroom, an open-air sculpture yard, and a woodshop and ceramics yard, all surrounding the individual studios and artwork. 'It feels a little like a labyrinth at times, which is what the old building was,' says project manager Lindsay Erickson, 'and I think its kind of nice because you're always entering between the old building, the new building, indoors, and outdoors. There are a lot of these moments that overlap in your passage.'
RELATED STORY
Upstairs is the Artist-in-Residence studio apartment, the most sequestered part of the space, which proved to be a challenge because of its residential element. According to Johnston Marklee managing director Nicholas Hofstede, 'it's a 24-hour building, the students almost live here during the semester and then having someone who is also living with them in terms of a student-teacher relationship, there were big discussions about how to do that.'

As well as having a semi-open area, where potential collectors could have their eyes on the graduates, it was important to protect the student's privacy. 'It was an important driver,' says Hofstede. 'Even having the public gallery – we debated because the intention wasn't to make it one step into the commercial gallery world, it was more like helping students learn how to hang their shows and think about curatorial practice. I think with the faculty and students we try to think of the whole ark of the time that they're here learning and they wanted a lot of freedom, but not to be over-exposed so that was the balance and that's how the planning took shape.'

After a few workshops with the students to gain feedback, Johnston and the team were ready to execute, and while there were different genres in place from painting to sculpture, the architects didn't want them to be segregated. The users should be able to freely move between different mediums; and their design allowed it. 'I was just talking to that student and he said, yeah, it's a really great feeling, on the one hand free, but also really connected to each other,' recalls Johnston. 'And I think that's the legacy of the program: that it's like a community.'
INFORMATION
johnstonmarklee.com (opens in new tab)