Open Architecture's UCCA Dune is a constellation of concrete caves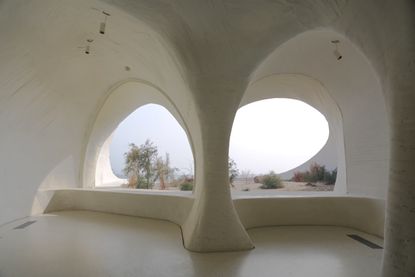 (Image credit: Open Architecture)
A curious landscape of primitive concrete caves tucked beneath one of the last remaining sand dunes in Beidaihe, a seaside resort some 300 km from Beijing, is the latest cultural addition to the Aranya Gold Coast Community, a vast coastal resort-residential development, popular with the capital's elite.

The 930 sq m single-storey structure houses seven indoor and three outdoor galleries and was designed by Beijing-based OPEN Architecture co-founders Li Hu and Huang Wenjing. 'The context was nature,' says Li. 'We didn't try to relate it to the surrounding development environment.'

For the next five years, the museum will be programmed and operated by the venerable Beijing art institution UCCA, with 'After Nature', the inaugural exhibition by nine Chinese artists (until April 4, 2019) exploring 'the shifting relationship between humans and nature against the backdrop of China's last three decades of breakneck development'. The standout piece is Yang Xinguang's 'Mountains', a collection of small concrete hills embedded in the sand outside the Dune.
The entrance to the gallery is through a long tunnel that leads into a series of meandering, interconnected caves of different shapes and sizes. Skylights infuse the curved interiors with a soft natural light and some overlook the sea through large seamless windows. A spiral staircase leads to the rooftop viewing platform. 'In China, we are so used to buildings of a grand scale but this brings it back to a human scale,' says Li. 'We didn't want a conventional art museum.'

Next year, a causeway will be added leading to a single-room gallery partially submerged in the ocean, accessible by foot at low tide. Li says that from the beginning he has imagined a dialogue between an abstract form presenting one artwork at a time and the primal caves with multiple works.

Although the form appears simple, its complex structure called for thick, strong concrete resting on a two-metre-deep concrete basin. Serendipitously, the contractors came from generations of boat builders and their wooden form work created such a beautiful texture that the designers abandoned their initial plans to plaster the walls.

'It's not perfect but that is what I love. You can feel some part of the struggle to make it," says Li.
INFORMATION
For more information visit the website (opens in new tab) of Open Architecture