Two new projects by Kengo Kuma in France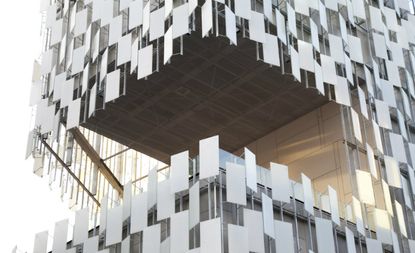 (Image credit: Emmanuel Barrois)
France has a long-held fascination with Japanese aesthetics, so it's no surprise Kengo Kuma (opens in new tab) has become the country's architect du moment. So much so that he opened an office in Paris in 2008 after winning competitions to design two regional centres for contemporary art. Located in Marseille (opens in new tab) and Besançon (opens in new tab), the two FRACs (opens in new tab) are being inaugurated this spring, only a couple of weeks apart.
In Marseille, Kuma's design revolves around the Mediterranean light and the urban setting of La Joliette, one of the city's poorest, though rapidly developing, neighbourhoods. The structure's footprint is a triangular shape wedged between existing buildings, the neighbours so close you can practically touch their drying laundry. To create the antithesis of museum-as-box, Kuma envisioned the visitors' path like an extension of the sidewalk, wending its way up and around high-ceilinged exhibition halls and assorted other spaces. In the middle of the building, he's gouged out a terrace eight metres in height.
But the most striking feature is the pixellated façade. Crafted from 1,600 panels of rectangular glass hung at different angles and in varying degrees of opacity, it fractures the light and gives the building a sense of weightlessness. As Kuma explains, 'By starting the structure from small particles, it naturally and seamlessly merges into its surroundings, unlike some massive piece coming down suddenly from nowhere.'
If the Marseille FRAC is a response to urbanity, Besançon's new Cité des Arts (opens in new tab) (including the FRAC and a music and dance conservatory) takes the natural environment as inspiration. The site faces the Doubs river and was formerly a port; Kuma has incorporated one of the original 1930s brick buildings into his design.
His contribution consists of two long, low structures whose checkerboard façades of wood, aluminium and glass recall a traditional Japanese textile motif. This hilly city offers several bird's-eye views (including from 17th-century fortifications), so the architect treated the 5,600 sq m roof as a fifth façade. In places where the sunlight comes through, the roof is made of glass and aluminium, filtering the light like a forest canopy. Elsewhere, its pattern comes from aluminium panels, solar panels and vegetation, so that it scintillates and takes on the colours of the nearby river.
Although these projects are finished, Kuma has others underway in what has become his second biggest market after Japan. 'I am always charmed by the variety of cultures and natural environments in France,' he says. Evidently, the French have fallen under his charm, too.