Striking footbridge reconnects Tintagel Castle to the Cornish cliffs
Separated over 500 years ago by a dramatic gorge, Tintagel Castle has been reconnected to the mainland with a red steel footbridge. Paved with slate and quartzite tiles, it slices through the Cornish coastal landscape, unexpectedly – yet successfully – connecting history and legend to the present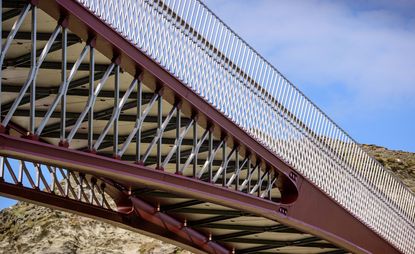 (Image credit: Jim Holden)
Visitors to Tintagel Castle in Cornwall used to have to climb up and down 148 steep and narrow steps to get from one side of what remains of the castle to the other, frequently getting stuck in logjams in warmer months. Now a new footbridge across the 58m gorge means people, and wheelchairs, can get across in seconds while enjoying dramatic views through rugged cliff promontories out to sea.

'It isn't one bridge, it is actually two half bridges,' clarifies Laurent Ney, founder of Belgium-based structural engineering consultancy Ney & Partners that designed the bridge with London-based William Matthews Associates. The bridge is indeed made up of two independent 33m-long cantilevers that project out and almost meet in the middle (spoiler alert: two pins actually connect the two halves but are almost invisible, and there is a very real gap of around 4cm that expands and retracts with the cold and heat).

A cantilevered structure, which is as strong while it is being built as when it is completed, was deemed the best solution for a site that is not accessible to trucks or cranes says Matthews. 'Construction was by cable crane, which is a bit like a ski lift and very common in the Alps but less so here,' explains Matthews. 'Long rock anchors on either side were placed low enough to avoid disturbing the archaeology.'
The new bridge at Tintagel is part of a wider five million pound project by English Heritage to enhance the ecology of the plateau through dedicated footpaths and landscaping that preserves its archaeology and minimises erosion.

For the team behind it, it's also about re-connecting the 13th century gatehouse on the mainland with the rest of the castle on the headland and recreating the route of the original land-bridge that existed there some five centuries ago.

'The bridge represents that transition from mainland to island, from present to the past and from history to legend,' says Matthews.

The materials of the bridge are a blend of the sophisticated and urban, as well as the unexpected and tactile. The main structure is made out of mild steel painted red, while the balustrading and the diagonal bars that connect the deck and the lower chord, are made out of electro-polished stainless steel that almost disappears out of view from a distance.
It's the walkway composed of 40,000 small slate tiles sourced from three miles away that really wows however. The tiles have been laid vertically on edge in steel trays and interspersed with white quartzite tiles to reference the delicate lines of quartz found on slate rocks in the area.

'The idea was that it's as if the slate paths on either side of the bridge continue as you cross,' says Matthews.

The results are textured and dynamic, resembling a tapestry from a distance. Remarkably, they also appear to reduce vertigo as you can't see through to the 57m drop below.

The new bridge at Tintagel hasn't been without controversy. Its detractors say the site should have been kept as is and not altered to make it more commercial. As interventions go however, this one not only has a strong rationale and integrates well into the landscape (and will do even more so as it ages), it also inspires awe and awakens the imagination. And, after all, that is what this evocative site is all about. §
INFORMATION
wma.co
ney.partners
english-heritage.org.uk
ADDRESS
Tintagel Castle
Castle road
Tintagel
PL34 0HE
UK
Receive our daily digest of inspiration, escapism and design stories from around the world direct to your inbox