NAIC's architectural facility in England's car-making heartland
Designed by Cullinan Studio, the centre sits at the entrance to the University of Warwick campus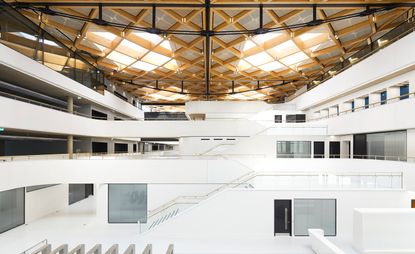 (Image credit: press)
The new National Automotive Innovation Centre (NAIC) opened in February on the University of Warwick's Midlands campus. The brief for the building was simple: devise a shared environment for research that could halve the time from original idea to final production, with both industry and academia under one roof.

The NAIC's ultimate goal is to develop future transport solutions that create zero accidents, emissions and congestion. The £150m centre is the result of a partnership between local businesses Jaguar Land Rover and Tata Motors plus the University of Warwick, with £15m of funding from the UK Government's Research Partnership Investment Fund via Research England. Designed by Cullinan Studio, the centre sits on a 17,800 sq m site at the entrance to the University of Warwick's main campus, offering good access to students and researchers alike.
Given the confidential nature of the work undertaken within the four-storey, 33,000 sq m gross internal space, at its heart there are secure technical laboratories and engineering and design halls. But surrounding these rooms are many open terraces and spaces, individual booths plus an exhibition area, cafe and entrance hall to encourage cross-fertilisation and inter-disciplinary meetings, where applicable. All working spaces are designed with flexibility in mind, including reconfigurable internal walls and projection-friendly surfaces.

Architecturally, the building's most impressive feature is its massive diamond-lattice, cross-laminated timber roof designed by Arup. This spans the whole structure, including the high outside entrance canopy propped up by two huge intersecting metal supports. The major glazing that makes up much of the centre's walls is tempered by undulating exterior aluminium mesh cladding to help limit the sun's heat and light from entering inwards while the surrounding landscaping – designed by Grant Associates – includes beds of native wild plants and a water course, to better integrate the building within its environment. Further ecological considerations of the design include a photovoltaic array on the roof and regenerative electrical heating connected to the University's combined heat and power plant, all of which helped towards the building's EPC 'A' rating and 'Excellent' BREEAM certification.
Inside the NAIC building, Cullinan Studio has created internal terraces surrounding the main working spaces on every floor to help users stay in touch with the natural world outside. As well as the physical benefits of exposure to natural light and air, rather than being tucked away in dark and sterile rooms, there are hopefully metaphorical benefits. Nature's gentle encroach should be a subtle reminder that the products being developed need to tread more lightly within the environment they will ultimately operate. As Cullinan Studio's design director Roddy Langmuir concludes: 'We have tried to bring in natural light everywhere, marking the changing of the sun's position across the day. Even deep inside the building, people have a connection with the day's natural rhythms and changing seasons.'
INFORMATION
tmetc.com (opens in new tab)
Guy Bird is a London-based writer, editor and consultant specialising in cars and car design, but also covers aviation, architecture, street art, sneakers and music. His journalistic experience spans more than 25 years in the UK and global industry. See more at www.guybird.com (opens in new tab)