The World Around summit imagines a different, better future
The World Around summit explores issues of environmental and racial justice, indigenous rights and public health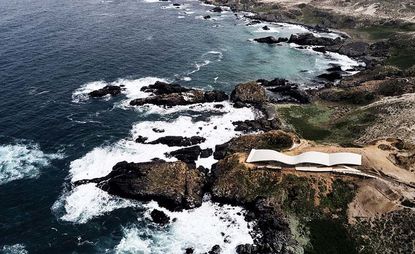 (Image credit: Cristobal Palma)
'To live in a different future, we have to imagine one first,' said Beatrice Galilee, co-founder of architectural non-profit The World Around, as she opened the organisation's second annual summit from the Guggenheim Museum in New York last Saturday. 'We have to hear and we have to see and we have to listen to others,' she continued. This simple, but far-reaching exhortation was very much what the day was about; listening, considering and exploring topics, such as environmental and racial justice, indigenous rights and public health through 20 architecture and design projects presented through animations, films, discussions and interviews.

Divided into three sessions – called Pollinators, Keepers and Builders – speakers included architects and designers but also filmmakers, researchers, anthropologists, journalists and artists. We found out about a pioneering new natural building material being developed by Dubai-based architects and designers waiwai that is inspired by the crystallised salt and minerals that form the UAE's remarkable Sabkha (salt flats) and made out of the waste brine created by the many water desalination plants in the region. We learnt from critic Alice Rawsthorn of the design ingenuity that had marked the Covid19 pandemic thus far.

We explored the new digital iteration of the Sámi Architecture Library installation created by Norway-based indigenous architect and artist Joar Nango. We met Sumayya Vally of Counterspace, a Johannesburg-based practice that has been chosen as the upcoming Serpentine Pavilion designer. We also heard David Adjaye, Ryūe Nishizawa, Francis Kéré and SO—IL speak about current and recent projects.
The Covid-19 pandemic affected the summit's contents and its format, but moving online did not appear to be detrimental, quite the opposite. 'It allowed me to think so much more creatively about who to invite and how to ask them to talk about their work and ideas,' explained Galilee. 'Working with film allows storytelling in a way that is quite different than the more conventional system of a lot of people in a room and one person on a stage. It allows us to have groups, collectives, animation. It means people can talk in their first language.' It also meant the speakers and audience could be anywhere in the world and not be hindered by the possibility (or not) of travel on a specific date.
RELATED STORY
For an event that aims to amplify equitable and civic-minded architectural projects, that sort of access was undoubtedly a game-changer and proved liberating for all, whether the speaker was widely known or not. The World Around encouraged attendees to speak about the issues that mattered most to them instead of presenting a controlled, polished or finished image of a project, as would have happened in a magazine or exhibition said Galilee. 'I love to hear directly from the designer about the back story of a building: the brief, the client, the context, the problems and the material, political and philosophical decisions that guide its design,' she continued.

By interspersing project talks by architects and designers with presentations by activists, artists and social scientists whose work examines the city through the lens of social and racial justice, The World Around showed how much the way we inhabit and operate in our cities and spaces conditions what they are or can become. Because the 'other' big crisis of the moment, as Buenos-Aires-based collective El Futuro Imposible put it in their wonderful animated presentation, is undoubtedly 'a crisis of imagination.'

A potential path of resistance to that crisis was offered by the closing live town hall session with NY-based artist led-organisation For Freedoms whose Wide Awakes project is named after the youth movement who used song, art and rallies to push for the abolition of slavery in the 1860s. They spoke upliftingly of the empowerment gained through appropriating that most contested of spaces, the street, 'our theatre' as they put it, and doing so with joy. The street is a place where change can happen they all agreed. And it brought us back to the summit's introductory premise: if we can envision a different future, we can also push harder to create one.
INFORMATION
Receive our daily digest of inspiration, escapism and design stories from around the world direct to your inbox