A new book unlocks the enigma of the Japanese garden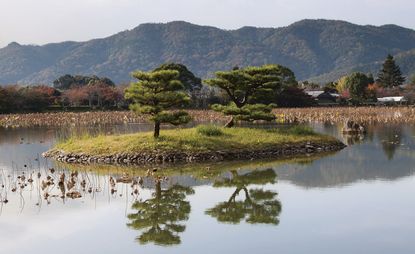 (Image credit: Travellinglight/Alamy Stock Photo)
Insight into the enigmatic nature of the Japanese garden is revealed beneath a dark green fabric covered book written by garden designer Sophie Walker and published by Phaidon. 'The Japanese Garden' covers the history, design and concepts behind this unique Asian art form through a charmingly detailed narrative that varies in pace from thematic chapters, to intimate essays and photography inside which the reader can get lost.

Walker leads the way down a pathway of discovery rooted in Zen Buddhism, the arrival of Feng Shui from China, Japan's distinct, diverse and unpredictable climate and landscape and the first written guide to the art of garden making, the sakuteiki or 'The Reasons for Garden-making', written in the 11th century.

Chapters explore and illustrate the distinct typologies of Japanese gardens – from Shinto shrines, Buddhist temple gardens, Imperial gardens, rock gardens, tea gardens, courtyard gardens and contemporary designs – always thematically interwoven with unifying concepts of self exploration, religion and Japanese culture.
Gardens grouped by typologies gradually educate the reader in the symbolic elements such as the path, the courtyard, still water, the bridge and the gateway. These each reveal precise meanings and are the tools that define the Japanese garden as a distinct art form.

Folded between chapters and photographs are essays by leading architects, artists and designers such as Tadao Ando, John Pawson and Lee Ufan that are short, personal treatises telling of intimate thoughts, experiences and ruminations on Japanese gardens.

Artist Lee Ufan writes of the gardens of Kyoto: 'I am overcome by the sensation that time has stopped, that I have slipped inside another dimension.' Kyoto's historic gardens were designed as three dimensional manifestations of ancient East Asian paintings.

Techniques such as the shakkei or 'borrowed scenery' effect played with proportions to create the appearence of distant lakes and mountains, or plants were selected such as the niwaki-pruned pine trees in the Adachi Museum garden, to resemble wizened trunks of older trees, while the yellow Zoysia lawns of the Imperial Palace East Gardens in Tokyo appear like gold paint in the winters.
Another essay titled 'Void, silence and transition' by Anish Kapoor explored the Daisen-in garden of raked gravel in a courtyard that 'offers no answers' but 'hovers in potential' – theories that were directly connected to Zen Buddhist principles of remaining empty, yet therefore open to everything.

These Karesansui or rock gardens, were hugely influential in inspiring the minimalist post war conceptual art movement in Japan, Mono-ha, during the 1960s Japan, as well as internationally in the work of artists such as Richard Serra and Richard Long. The Zen rock garden of Ryoan-ji was the subject of a postcard from Walter Gropius to Le Corbusier in June 1954 as well as John Cage's abstract composition for voice Ryoan-ji (1983-5).

From a barren rock garden full of potential, to the 'unenterable' courtyard garden designed to open a window to another world, and the stone pathway that carves out a psychological journey – Walker shows that the Japanese garden is as much a spiritual experience as it is a physical one.
INFORMATION
'The Japanese Garden' is published by Phaidon (opens in new tab)
Harriet Thorpe is a writer, journalist and editor covering architecture, design and culture, with particular interest in sustainability, 20th-century architecture and community. After studying History of Art at the School of Oriental and African Studies (SOAS) and Journalism at City University in London, she developed her interest in architecture working at Wallpaper* magazine and today contributes to Wallpaper*, The World of Interiors and Icon magazine, amongst other titles. She is author of The Sustainable City (2022, Hoxton Mini Press), a book about sustainable architecture in London, and the Modern Cambridge Map (2023, Blue Crow Media), a map of 20th-century architecture in Cambridge, the city where she grew up.