A mirror to society: an Avraham Yasky survey at the Tel Aviv Museum of Art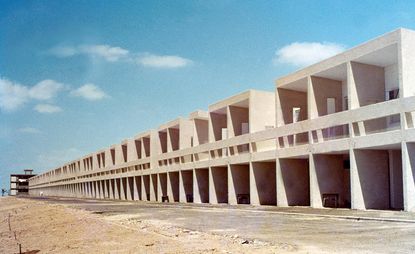 (Image credit: press)
Avraham Yasky was his generation's most prolific architect. Early in his career he worked in the office of pioneering Israeli architect Arieh Sharon; later, he planned Rabin Square with Shimon Povsner, aged just 25. He went on to found the school of architecture at the Tel Aviv University and, in 1965, established Israel's largest architectural firm with partners Joseph Sivan and Yitzhak Moore. MYS (Moore Yasky Sivan Architects) are responsible for many of Tel Aviv's defining skyscrapers, including the envelope of the Azrieli Centre and the iconic beachfront Opera Tower, as well as numerous commercial buildings in the city centre, such as the Platinum, Alrov and AFI Towers.
Yasky made his name with his 1960s 'quarter-kilometre apartments', working primarily with concrete – they were functional, monochromatic, modernist buildings. Later, his style would shift away from brutalism towards the possibilities of glass – a feature of many of the commercial projects he built – as well as more ornamental elements, seen in the shopping malls and pink-tiled towers that typify his later work.
Known for the flexibility and indifference with which he often faced stylistic and ethical issues, Yasky – who passed away in 2014, aged 87 – argued his success was simply down to good intuition and common sense. Now, the ideas behind his successes are to be explored through plans, photographs and other documentary materials relating to hundreds of Yasky projects, at a dynamic exhibition at the Tel Aviv Museum of Art. Commemorating and celebrating Yasky and his far-reaching legacy, the retrospective also contemplates the often troubled relationship between architecture and society – a relationship that is particularly complicated in a place that has seen such dramatic economic, social and political shifts as Israel in the course of the five decades of Yasky's career.
If architecture is a mirror to society – as curator Dan Handel suggests—the exhibition poses another significant question to its audience: 'Is the story of the recent decades to be told as a sequence of intellectual, technological and material achievements – or perhaps as a tale about the gradual loss of an elusive, unquantifiable quality identified with Israel's most influential architect?' Time, as always, will tell.
INFORMATION
'Yasky and Co: Israeli Architecture According to Avraham Yasky' is on view from 16 April – 27 August. For more information, visit the Tel Aviv Museum of Art's website
ADDRESS
Tel Aviv Museum of Art
27 Shaul Hamelech Blvd
Tel Aviv
Receive our daily digest of inspiration, escapism and design stories from around the world direct to your inbox
Charlotte Jansen is a journalist and the author of two books on photography, Girl on Girl (2017) and Photography Now (2021). She is commissioning editor at Elephant magazine and has written on contemporary art and culture for The Guardian, the Financial Times, ELLE, the British Journal of Photography, Frieze and Artsy. Jansen is also presenter of Dior Talks podcast series, The Female Gaze.