Herzog & de Meuron and Purcell transform Hong Kong prison into Tai Kwun cultural hub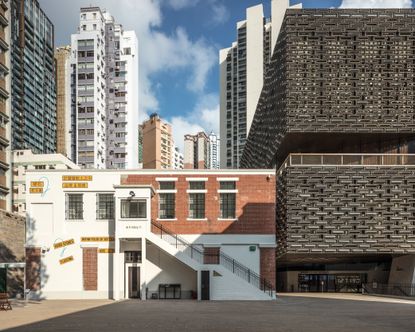 (Image credit: Edmon Leong)
A police station, magistracy and prison are probably the last places on most people's 'must see' cultural hotspots list, yet this week the former Police Headquarters compound in Hong Kong has been unveiled as a new, non-profit, cultural hub called Tai Kwun, meaning 'Big Station'. The ambitious plan is unusual because centrally located sites are usually snapped up for high-rise commercial use, and this 300,000sq ft compound is only a few minutes' walk from the city's prime financial district.

Swiss architects Herzog & de Meuron, who are also responsible for designing Hong Kong's M+ museum of visual culture (opening in 2020), worked with conservation architects Purcell to revitalise 16 historic buildings built around a prison yard and parade ground dating between 1864 and 1925. Three of the buildings are declared monuments and the whole site is steeped in history; Ho Chi Minh was imprisoned there in the 1930s and it was a Japanese army base during the Second World War. The site was decommissioned in 2006, but much of it has been retained intact, including the prison cells with their original numbers and locks.
The decade-long joint venture project is led by the Hong Kong Jockey Club in partnership with the Hong Kong Government. The designers have inserted two bold contemporary buildings in the complex; a gallery for contemporary art and a cube-shaped 200-seat auditorium for the performing arts, film screenings and events. Both are clad in monumental perforated aluminium bricks that stand out among the existing buildings' handsome granite and brick facades.

The Tai Kwun Contemporary not-for-profit art space will host six to eight exhibitions a year, starting with a group show titled 'Dismantling the Scaffold' (opening 9 June) and an exhibition of Chinese medicine-inspired works by local artist Wing Po So.

'We shift perspective from a European point of view to a Hong Kong view,' says Tobias Berger, Tai Kwun's head of arts. 'It is the connection between heritage and contemporary that is important: the buildings are seamlessly connected and you see that also in our mentality.' Elsewhere, an exhibition titled '100 Faces of Tai Kwun' gives an intriguing glimpse into the history of the compound and its neighbourhood.

Finding one's way through the various spaces is satisfyingly clear thanks to a new lane through the centre of the site linking the buildings. Restaurant offerings on site include the Café Claudel bistro, and a 'Cha Chaan Teng' neighbourhood-style teahouse by Tsui Wah. All eyes, however, are on the mid-June opening of local dining maven Yenn Wong's Old Bailey, serving Jiangnan cuisine.
INFORMATION
For more information visit the Herzog & de Meuron website