A concrete house in Ecuador takes its cues from its rich natural context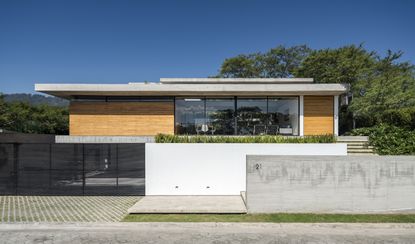 (Image credit: BICUBIK)
The conditioning factors of architecture can be multiple and diverse, but the context (the site and wider terrain), where a building is going to be placed, always has a special and inescapable role in its design. It can be one of many deciding factors or the celebrated, fundamental protagonist; and in the case of Casa Tacuri, a single-family house by the Ecuadorian architect Gabriel Rivera, it is the latter.

Quito, the capital of Ecuador, at almost 3000 metres of altitude, skimming the clouds right on the planet's equator, is surrounded by valleys of fascinating nature; there are different microclimates, fauna, flora and breathtaking views. Tacuri, the neighbourhood where the house is located, is such a privileged area, populated by beautiful Algarrobos trees that attract a variety of bird species.

Respecting each tree and maintaining the microclimate of the place were fundamental conditions for the architect, which is why his proposal was to create a design that allows living among the trees; the only question was, what would the correct architectural language be, for the house to engage in a meaningful dialogue with its surroundings.
Rivera's answer was to work with clean, minimalist lines and precise geometry, while remaining open to the environment, enjoying the trees, the temperature and the climate. The architecture should not compete with the nature of the site, says the architect, but rather the two should integrate harmoniously. The most critical element was establishing a respectful dialogue, where nature and architecture contribute equally to the wellbeing and happiness of the inhabitants of the house.
The architect's proposal has a modernist-inspired, contemporary approach, rooted in the meticulous perfection of even the smallest detail. It was important that all the trees on the plot were saved, which led to the distribution of three different volumes perimetrally, around a central patio. The first one faces the street and contains all the social areas of the house. A second volume, spanning two levels and positioned perpendicular to the first, hosts the more private family rooms. Finally, a third building houses a study that overlooks the main courtyard. These three structures are connected through a continuous external, covered pathway that travels around the whole complex.
Rivera's house is successful in 'reading' its locale, fitting perfectly with the topography of the land, while gently echoing nature's formations, for example where the concrete slabs hint to the trees' foliage by floating and intersecting one another, while shaping the living spaces. Metal columns, like tree trunks, hold the slabs together in further homage to the natural topography.
Large glazed planes contain the interior spaces while connecting them visually to the surroundings. Timber floors help create domestic warmth, but also bring the texture of wood inside, enhancing Casa Tacuri's powerful sense of place.
INFORMATION
For more information visit the of Gabriel Rivera Arquitectos