A Seoul architecture practice designs a weekend retreat for a nature-loving couple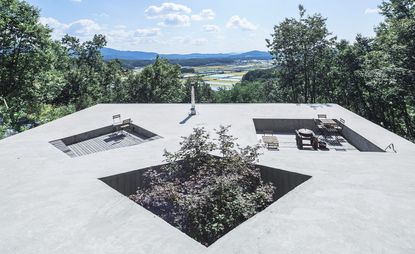 (Image credit: Sergio Pirrone)
Faced with a vertiginous plot of land overlooking South Korea's Sugok-ri valley in Yangpyeong County – a lush agricultural region about an hour's drive from Seoul – BCHO Architects turned the topography to their advantage when designing Tilt Roof House. By embedding the building into the landscape, the roof became the perfect viewing deck for surveying the spectacular scenery. 'There was no space for a front yard here so we had to think pragmatically,' says BCHO founder Byoung Soo Cho. 'The top of the house presented an opportunity.' Its sloping incline follows the gradient of the hill, making the house seem to disappear into the ground below.

Such disappearing acts are a recurring theme for the Seoul-based architecture practice. BCHO Architects has masterminded several of these feats in the region, including Earth House, a modest structure that is submerged beneath the ground, and Concrete Box House, a holiday home built into a hillside. 'We like to make as little impact on the landscape as possible says Cho, who set up the firm in 1994 and now has a second office in the US. It is a sentiment that resonated with the Tilt Roof House's nature-loving owners, a couple in their forties that spend their weekends hiking in the surrounding mountains.
By nestling the house into the slope, the architects have also sheltered it from the harsh local winter climate. 'It needed to be well protected from the heavy rain and snow, and have a minimal footprint,' says Cho. The building's exterior walls are made from board-form concrete, constructed in just two pours, to keep costs down, while on the roof, the architects opted for a smooth finish. 'Ten years ago, we developed a method for waterproofing concrete by smoothing it with a trowel three or four hours after pouring,' he explains. 'It also gives the building a monolithic feel.' The facade, meanwhile, is made from pine, treated with a black oil stain for protection, and can be pulled shut across the entrance when the house is not in use.

Punctuating the roof are the imprints of three square boxes: two that are partially recessed to create external seating areas, and another that extends down to ground level to form a courtyard. These give a strong design direction to the interior of the two-bedroom dwelling, distinguishing different areas. The lower ceiling heights create a sense of intimacy in the master bedroom and kitchen, making the living areas feel more lofty and open by contrast, while the courtyard funnels in an abundance of natural light. The use of these 'boxes' to help form the floorplan is a simple but effective architectural device. 'With every project I do, I try to use the minimum of gestures to create the maximum of experiences for the inhabitants,' says Cho.
Every space within this compact home is carefully considered, with not a metre wasted. The smallest bedroom is based on the traditional Asian kan unit, a miniature compartment just large enough for one adult to lie down straight. Yet there's nothing cramped about the house's modest proportions. In fact, there's a fluidity to its spatial arrangement, helped by the large picture windows that frame the spectacular long views.

Contrasts abound in this small home: the rough, dark materials of the exterior give way to a cool interior, with white walls and soft birch plywood panel surfaces; sharp exterior angles are tempered inside by a wealth of curves and softer compositions; the space is cocooning without being suffocating; and the building feels at one with the surrounding landscape yet at the same time, distinctly different. It's not hard to see why what was originally intended as a weekend retreat is swiftly becoming the main home for its formerly city-dwelling owners.§

As originally featured in the April 2015 issue of Wallpaper* (W*193)
INFORMATION
For more information, visit the BCHO Architects website (opens in new tab)