Midcentury solar homes celebrated in House of Tomorrow show in Illinois
'Houses of Tomorrow: Solar Homes from Keck to Today' opens at the Elmhurst Art Museum in Elmhurst, Illinois, celebrating early solar innovations of the 20th century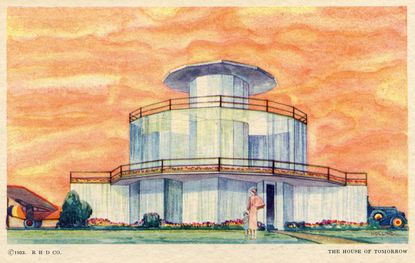 (Image credit: Steven R. Shook)
'Houses of Tomorrow: Solar Homes from Keck to Today', a new exhibit at the Elmhurst Art Museum in Elmhurst, Illinois, celebrates the House of Tomorrow and its solar innovations as a precursor to technologies and materials still in use today. The project, designed by George Fred Keck for the 1933 Century of Progress World's Fair in Chicago, was decades ahead of its time. As well as featuring new-fangled gadgets, such as a dishwasher and an 'iceless' refrigerator, the House of Tomorrow also represented an early manifestation of harnessing solar energy.
The Elmhurst exhibit features a dedicated gallery illustrating a range of midcentury solar homes designed by brothers George Fred Keck and William Keck, along with a newly commissioned art project centred on glass and light by Jan Tichy, associate professor of Photography, Art & Technology Studies at the School of Art Institute of Chicago. The show concludes with winning designs from a 2021 passive solar competition by Passive House Institute US (PHIUS).
'Houses of Tomorrow: Solar Homes from Keck to Today'
McCormick House – the midcentury residence that is part of the Elmhurst museum's campus – features a related exhibit by Tichy entitled 'Reflectance', with a centrepiece solar light space modulator constructed with dishwasher racks and reflected glass from the House of Tomorrow. Tichy's kinetic piece harnesses solar power to reanimate its mundane domestic objects while simultaneously reflecting light around the entire room. This part of the show also includes a collection of nearly 30 pieces located throughout the house, including artifacts from the House of Tomorrow and photographs featuring poetry by Isabella Gardner – who, with her husband Robert McCormick, was the first resident of the McCormick House.
'(I wanted to) make the connection between these larger themes of solar architecture to the specific family that inhabited this space as artists; that reflected on what was happening around them and to them and all the way back to House of Tomorrow,' said Tichy.
The exhibition launch also marks a year-long celebration of the 25th anniversary of the Elmhurst Art Museum. Several related events are planned, including lectures about the House of Tomorrow, family-friendly hands-on activities, a panel discussion on sustainable architecture and docent-led tours of McCormick House. All exhibits run through 29 May 2022.
INFORMATION
elmhurstartmuseum.org (opens in new tab)