CAZA's Santuario de La Salle aims to 'connect people to place and heritage'
CAZA's Santuario de La Salle church pushes the boundaries of traditional religious design at the De La Salle University campus in the Philippines' Biñan City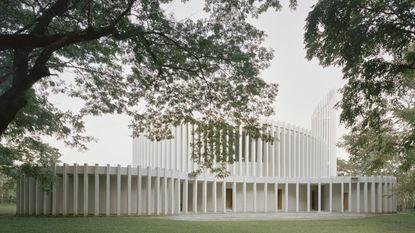 (Image credit: Rory Gardiner)
Wallpaper* Newsletter
Receive our daily digest of inspiration, escapism and design stories from around the world direct to your inbox
Thank you for signing up to Wallpaper. You will receive a verification email shortly.
There was a problem. Please refresh the page and try again.
Santuario de La Salle by Carlos Arnaiz Architects (CAZA) is a refreshing take on traditional religious architecture at the De La Salle University campus in Biñan City, the Philippines. The church and community hub is exemplary of CAZA's practice and sensitivity for exploring how architecture can 'shape meaningful experiences, enhance its context [and] connect people to place and heritage'.
The award-winning Santuario de La Salle (it scooped the 2023 A+ Award in the Religious Buildings & Memorials category) has been widely recognised as an outstanding structure in its genre and built landscape.
CAZA's Santuario de La Salle at a glance
The building lies nestled within a leafy glade, naturally set apart from bustling scenes at the university campus. Named after the patron saint of teachers, John Baptist de La Salle, the space is designed to offer 'a different idea of spiritual inclusiveness' for educators, students and wider congregating communities.
At a glance, its strikingly white, organic shape is mysterious in its surrounding context. Only an abstractly formed steeple with a comparatively discreet crucifix alludes to its function. Made softer by the use of raw, textured materials, the structure bears an unexpected yet assured sense of belonging within the surrounding wooded landscape.
Crafting spatial and spiritual journeys
Vertical slats form a permeable outer skin, breaking up the wide, undulating volume and naturally endowing the structure with a sense of lightness and a sense of transparency. This outer skin also carves out a series of semi-outdoor moments, that help to gently transition congregants into more sheltered, sacred areas within.
Pockets of circular-shaped rooms linked by these transitionary spaces cater to different religious events at varying levels of formality. The structure is designed to take individuals on a spatial journey, leading them towards congregational hubs where they are made to feel part of a larger, connected group. In this way, the design is sensitive to ideas of individual and communal experiences of faith.
Upon entering the main congregational space, the materiality smoothly transitions to softwoods and brass. In a double-height central core, celestial tilted ceiling features star-like lighting – delicately hanging pendants cast down soft beams of light. Despite representing a departure from the traditional shape of churches, the design does not entirely eschew it; clerestory windows wrap the congregational space's circumference, to evoke the traditional experience of looking up towards the light.
At multiple moments inside and outside of the scheme, CAZA's design allows people to connect with their faith, community and nature.
Santuario de La Salle
727V+2Q9 De La Salle University Laguna Campus
LTI Spine Road, Laguna Blvd, Biñan, Laguna, Philippines
Receive our daily digest of inspiration, escapism and design stories from around the world direct to your inbox
Nana Ama Owusu-Ansah is a writer and photographer from London. She first wrote for Wallpaper* in 2021, in a series on the new vanguard of African designers practising in Africa and its diaspora. She is drawn to projects centring on decolonial approaches to art, architecture, as well as community and sustainability. Nana Ama read Economics and Spanish at University of St Andrews, and, as an avid linguist, is passionate about using accessible language to invite new audiences to engage in design discourse.