Colour block: Rogers Stirk Harbour + Partners completes International Towers in Sydney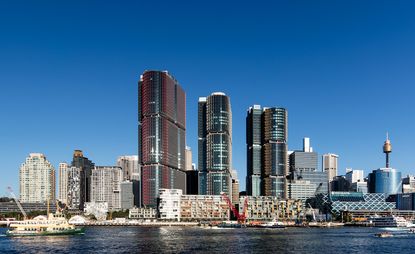 (Image credit: TBC)
Rogers Stirk Harbour + Partners has completed the final tower of the International Towers in Sydney, marking the culmination of the first major part of its masterplan for the Barangaroo South area which unites the CBD with the waterfront.

Looking out over Sydney's western harbour, the facades of the three International Towers are covered with colourful fins designed to deflect heat while allowing light to enter. While visually cohesive as a trio, each tower is unique, reacting to its orientation.
As well as a striking addition to Sydney's iconic skyline, the project has been lauded for its environmentally conscious design, receiving a prestigious Six Star Green Star rating (an Australian sustainability guide). Features include solar panels, rainwater capture and recycling and blackwater treatment, as well as substantial bicycle storage in the basement.

Setting a precedent for future builds of this kind, the towers were designed to meet all the requirements of modern working, including dynamic spaces and holistic interior planning. Housing a range of businesses, office spaces in the International Towers can be adapted to suit every style of working through a flexible 2,500 sq m of floorplates.
The 23,000 office workers populating the towers will also have access to a range of areas with high ceilings and large vertical open spaces, as well as welcoming lobbies on the ground floor, with vast windows opening up the buildings to the street.

Part of RSHP's aim for the masterplan at Barangaroo South, the largest urban renewal project in the city since the 2000 Olympics, was to create a new location for work and play in the city and to open up the area to the public through architecture.
The towers are designed to interact with the natural thoroughfare of the streets, positioned in a radial formation to break up the city grid and invite people to navigate through the site, initiating an outdoor culture to contrast the CBD's tight surrounding network of streets and solid buildings.
INFORMATION
For more information, visit the Rogers Stirk Harbour + Partners website (opens in new tab)