RIBA Stirling Prize 2018 shortlist for the UK's best building is revealed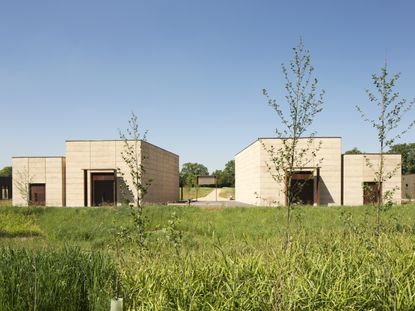 (Image credit: Lewis Kahn)
This year's Royal Institute of British Architects Stirling Prize shortlist for the UK's best new building has been annouced with architects Foster + Partners, Jamie Fobert with Evans & Shalev, Niall McLaughlin Architects, Waugh Thistleton, MUMA and Henley Halebrown all featuring. RIBA President Ben Derbyshire highlighted how the shortlisted buildings each demonstrate the 'power and payback of investing in quality architecture'.

The selection of six buildings for the RIBA shortlist crosses typologies from student housing, office, cemetery, art gallery, lecture theatre and a nursery school, yet this year, it was the education sector that was responsible for commissioning three. 'It doesn't go unnoticed that half of the buildings were commissioned by UK universities, suggesting that parts of the higher education sector value the importance of improving the quality of their buildings and estates to reward and attract students, staff and visitors, and to make a positive contribution to their local area,' says Derbyshire.

None of these were straight-forward university buildings. The Storey's Field Community Centre and Nursery designed by MUMA is a new hub in the heart of the 'North-West Cambridge' development, a new community comissioned by Cambridge University to house its staff in reliable and affordable housing. The centre followed clear sustainability and biscuit-coloured brick guidelines, neatly slotting into the masterplan with a warm and uplifting design for the new community. The judges expressed how this project was an example of a British architecture that 'offers ideas, skill and care in ways that transform the human use and experience of this building at every opportunity'.
The Storey's Field Community Centre and Nursery designed by MUMA

Another education building with a twist is sensitive student accommodation designed by Henley Halebrown that wraps around the existing Grade II-listed Georgian Downshire House at the University of Roehampton London. Carefully placed within sunken gardens, the scene the architecture sets is positively cinematic: 'The concept is a nod both to Georgian architecture as well as to a modernist block of flats' say the judges, who described the building as 'subservient' to its listed predecessor.

Restraint seems to be property of all of this year's RIBA Stirling Prize nominations. Niall McLaughlin Architects' Sultan Nazrin Shah Centre, Worcester College, Oxford, communicates mathematical clarity with its slim colonnades, nodding sideways towards post-modernism while pursuing a minimalist pathway. Constructed from classic Oxford stone and natural oak, the boxed lower form supports a curved floating auditorium, while softly blending into the landscape. Niall McLaughlin Architects were shortlisted for the Stirling prize for the Bishop Edward King Chapel in 2013 and Derbyshire Place in 2015, it certainly looks like 2018 may be the year for them.
Jamie Fobert with Evans & Shalev have been shortlisted for the Tate St Ives (opens in new tab), this doesn't come as a surprise after the reconfiguration and extension of the gallery had been widely praised and recently enabled the institution to pick up the prestigious Museum of the Year award in the UK this year. Fobert's design, grounded in its rural, coastal setting, sunk an extension deep into the cliffs of Porthmeor Beach doubling the exhibition space and drawing in light from six monumental skylights. The roof became a public garden of Cornish wildflowers and a new public walkway winding down from the town of St Ives connected the gallery to the beach.

Another nomination also formed a direct connection to nature through its design – the Bushey Cemetery in Hertfordshire, from Waugh Thistleton Architects. Built of natural rammed earth walls, oak and rusted steel, the materials expressed the purpose and spirituality of the building itself, rooted in the beliefs and customs of the Jewish faith. 'In keeping with the Jewish idea of being buried very simply, in a cardboard coffin, simple clothes, the buildings carry through the idea of returning the body to the ground, "earth to earth, ashes to ashes",' noted the judges.
Bloomberg's London HQ by Foster + Partners, which makes this year's shortlist, is one we at Wallpaper* are familar with. It stormed the scene in late 2017 with its sustainable credentials, preserved Roman ruins and remarkable swirling staircase designed for a contemporary pow wow – a meeting on the go while training your calf muscles with a slow upward crawl. Like Google and Apple before him, Bloomberg's interest in providing the best workplace for its employees is admirable and innovative in itself, a dream client for the forward-thinking Foster.

While perhaps not as celebrated as Foster + Partners' 30 St Mary Axe – the much-loved Gherkin, which won the Stirling prize in 2004 – we just aren't living in a year of national architectural treasures anymore. The Bloomberg building is sensible, still impressive, but it is quietly monumental, representing the current mood of London and 2018 in the midst of St Paul's historic portfolio of buildings.

These really are 'six buildings of real integrity and purpose' – all born in the midst of political chaos, continued Brexit unease and an unpredictable economic future. Architects are keeping calm and getting on with designing and building high quality architecture for people across the UK.

'In these challenging and turbulent political times, we must celebrate how the UK's architectural talent can help to improve local communities and their quality of life', says Derbyshire. At least that's something we can still be proud of.

The winner of the RIBA Stirling Prize will be announced on 10 October 2018 at the Roundhouse in Camden, London.
Harriet Thorpe is a writer, journalist and editor covering architecture, design and culture, with particular interest in sustainability, 20th-century architecture and community. After studying History of Art at the School of Oriental and African Studies (SOAS) and Journalism at City University in London, she developed her interest in architecture working at Wallpaper* magazine and today contributes to Wallpaper*, The World of Interiors and Icon magazine, amongst other titles. She is author of The Sustainable City (2022, Hoxton Mini Press), a book about sustainable architecture in London, and the Modern Cambridge Map (2023, Blue Crow Media), a map of 20th-century architecture in Cambridge, the city where she grew up.