Rem Koolhaas contemplates the countryside at the Guggenheim's latest show in New York
Rem Koolhaas, with the help of his practice's research branch, AMO, and a host of international collaborators, delves into the present and future of our planet's countryside in an exhibition at New York's Guggenheim Museum. The show offers a pioneering new direction to architectural thinking that takes the spotlight away from urban centres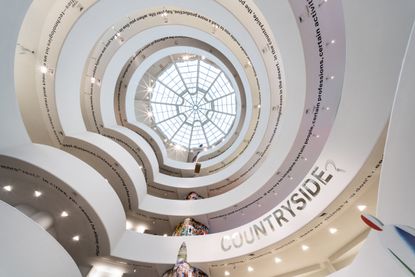 (Image credit: David Heald, courtesy Solomon R. Guggenheim Foundation)
Rem Koolhaas has been thinking about the countryside for years, he tells a captive audience on a blustery New York morning, and it's time to give it some attention. Koolhaas is introducing 'Countryside, The Future,' an exhibition that opens today at the Solomon R. Guggenheim Museum in New York. It's a temporally and spatially massive show, the kind of focus on architecture that most practitioners and historians only dream of. And the exhibition, though officially billed as an AMO plus collaborators project, is vintage Rem, almost a greatest hits collection.
There's the iconoclastic personality, which comes through in a bracing first-person wall text that introduces the show. It points out the exhibition's intellectual origins – an observation that a Swiss village he liked to visit was changing. Pop culture is referenced in the magazine covers that paper the central column. The typical OMA/AMO research-intensive vibe can be seen in the first gallery offshoot, where four categories of books under glass vie for attention with a massive wall-printed text, courtesy designer Irma Boom.
Throughout the show you'll read an endless series of questions Koolhaas asked himself as he thought about the countryside. A projected map of the world is the exhibition's iconic image, where the red graphics show areas the exhibition contends with, featuring rotating typefaces of information graphically overlaid. There's an alarming graphic that shows heat anomalies, and another that shows the sheer number of shipping routes, and, well, much of the show is inherently alarming.
Koolhaas' argument, such as there is one (the show seems purposefully non-polemical), is that the countryside has been overlooked, largely because of the UN's observation that, by 2050, two thirds of the world's population will live in cities. And that its being overlooked has caused it to be transformed from a bucolic land of peace and pleasure (how he remembered Switzerland) into a sort of weird and un-designed back office/storage room for the world's cities.
RELATED STORY
The exhibition, put together with five generations of Harvard GSD students and a host of collaborators from Beijing, The Netherlands, and the University of Nairobi, offers a look into some of those back office mechanisms. Some – like a robotic bee and some lively greenhouses – feel familiar. Others – like a map of China's political structure (extremely timely), and a look at how Qatar dealt with food insecurity caused by political blockades (also timely given our planet's very real potential to experience global food insecurity) – offer some of that zing of excitement that we have come to associate with Koolhaas', earlier in particular, contributions to the field.
Koolhaas, with his firm, made his mark with his book Delirious New York, which he brought up; then another book, SMLXL, and then the Harvard Design School Guide to Shopping, always staying just one step ahead of what the staid academy expected architectural historians and theorists to do. 'Countryside, The Future' feels like the next move in that direction, but it's also, like his 2003 publication Content was, somewhat messier, a bit, perhaps, historically sloppier; the word 'antiquity' is used frequently to refer, generally, to 'the past,' though it's clear that the actual locus of this antiquity is only loosely imagined.
Still, that's what's on the menu now, in this era of ever-expanding museums and a lay public increasingly interested in understanding the seemingly infinite complexities of our world, whether expressed here through fish farm videos or a moving Stalin robot. It is likely that enterprising students of architecture and future historians will see this as something like a capstone to his career. It's a bit cheeky, it has its intellectual moments, and – just like the tractor that sits right out front – meant to capture our attention. What the public – or the politicians involved in maintaining all the various orders the show alludes to – does with this attention remains to be seen.
INFORMATION
'Countryside, The Future' runs 20 February – 14 August 2020 at the Solomon R. Guggenheim Museum
ADDRESS
Solomon R. Guggenheim Museum
1071 5th Ave
New York
NY 10128
US