Greenland's Qaammat Pavilion for Unesco celebrates land and people
Architect Konstantin Ikonomidis designs Qaammat, a pavilion just above the Arctic Circle in Greenland, that celebrates the local landscape and the Inuit community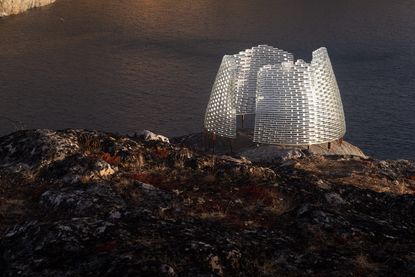 (Image credit: Julien Lanoo)
The architect Konstantin Ikonomidis, Swedish but of Greek extraction, is currently stationed in a small museum in Sisimiut, just above the Arctic Circle in Greenland. The view out of his window is as ridiculously perfect as you would imagine it to be, a jumble of brightly coloured pitched-roof houses on a rocky headland of muted grey and green. About an hour's sail north is the village of Sarfannguit (you pretty much have to fly, sail or dogsled to get anywhere in Greenland). High on a hill above the village, Ikonomidis has just installed Qaammat, two curved walls of glass brick, a kind of striking shelter-come-cairn or permanent 'pavilion' as he calls it, for Unesco.
The area around Sarfannguit, stretching from Aasivissuit to Nipisat, was declared a Unesco World Heritage site in 2018, Greenland's third. The new glass pavilion was commissioned by Unesco in 2019, intended as a celebration of the local landscape, cultural as well as physical, and the Inuit community's connection with that landscape (Greenland is almost 90 per cent Inuit or European-Inuit).
Ikonomidis has been in Greenland since 2017, based in the capital Nuuk before the move to Sisimiut (population 5,600ish), the country's second city. Fascinated by house building traditions and extreme climates, he considered Greenland fertile ground. 'I was asked to make some kind of small house for the Nuuk Nordisk Culture Festival and I didn't want to just make a beautiful house you just walk into and walk out,' he says. 'I was trying to go a little bit beyond the obvious.' Ikonomidis came up with Qamutit, a conceptual sled-house. 'At the time, I was building a traditional kayak in the Greenlandic style, where you actually tie things together with ropes. And that structure is mostly tied together in the same way.'
Qamutit is essentially timber scaffolding lashed to large skis. Its construction employed other traditional Inuit building techniques, where wooden poles are placed in accurately cut holes instead of bolted or screwed together. This combination of lashing and slotting means that Inuit sleds have enough give and take to survive travelling long distances on ice and snow. Ikonomidis attached Douglas fir panels to the scaffolding poles and visitors were asked to share their thoughts on what makes a house a home, posting them on one of the panels.
'Unesco had seen the sled house and wanted to collaborate,' he says, 'so we visited Sarfannguit to look for a potential site for an installation.' This time he wanted the work to be fixed and permanent: 'The budget was really low but it is so beautiful there and I wanted to bring attention to the village.'
He also wanted to make sure that the work reflected the lives, ideas and traditions of the Sarfannguit residents. 'I wanted to find out what they wanted,' says Ikonomidis. 'I asked them to talk about nature, what it meant to them and what their relationship to it was,' he says. 'There is a sense of its power here because everything is oversized, with these big mountains. There is a respect, a sensitivity to it but also a sense of its vulnerability. It's there in the local mythology. And then I came up with the idea of using glass. It had that sensitivity and vulnerability, a contrast with the rock. And of course you also get the reflections and the play with light, and it looks like ice. It was a win-win.'
The pavilion's undulating walls are made up of five tons of opaque glass bricks attached to metal poles, sunk into rock, a method borrowed from local house building traditions. The two walls have two narrow openings, allowing for a kind of intimacy and exposure at the same time.
As Ikonomidis says, the experience of being in or around the pavilion is different depending on the weather or what season or time of day you are there. 'I was actually surprised by how much it changes,' he says. 'Even if I look at photographs now, I can categorise them by the time of day they were shot. Sometimes it appears blue, sometimes it is yellow. And when you walk around it, it can become almost transparent, from other angles very textured, sometimes it seems to absorb light and other times to reflect it.'
With a population of 100, Sarfannguit is, in Greenland terms, large and thriving. Many of the country's smaller villages lie abandoned and in ruins. The industrialisation of fishing and the Danish Government's policy of relocating villagers to larger towns, particularly the capital Nuuk, has left Greenland littered with ghost villages. Indeed, Sarfannguit is the only active village left in the new Unesco Heritage area and there is an abandoned village nearby. Ikonomidis imagines his pavilion as a connection between the two outposts, between the past and the present. It is also intended to be a waymaker or beacon on a planned hiking trail between Sarfannguit and Nipisat, an extension to the existing Arctic Circle Trail and another way of drawing attention and visitors to the village.
Now that the Qaammat project is done, Ikonomidis is preparing to head to Tanzania. He worked in the country before moving to Greenland, developing a housing prototype that would help stop the spread of malaria. He's going to rejoin his old team and work on bamboo housing designs, while also pursuing what he calls his 'art/architecture projects'.
It's hard to imagine, though, that he won't be back in Sarfannguit, checking in on his hilltop monument to the village and the community it maintains. 'They have been involved since the very beginning and they were there when the pallets of glass bricks arrived,' he says. 'They are really happy with the pavilion and that is the most valuable thing to me.'
INFORMATION
Receive our daily digest of inspiration, escapism and design stories from around the world direct to your inbox