Q&A with architect Ole Scheeren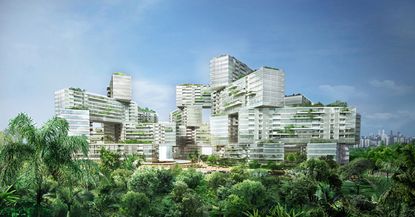 (Image credit: TBC)
Since leaving OMA (opens in new tab) earlier in the year, Ole Scheeren has scarcely touched the ground. To date, the German-born architect has found himself one of the key players shaping the architectural culture of the 21st century, and his involvement in the CCTV tower in Beijing, as project architect and leader (and founder) of OMA Asia, gave him a high profile platform from which to launch his own studio. Büro Ole Scheeren, officially announced last month, was co-founded with Eric Chang, also ex-OMA. Together, Scheeren and Chang have established an office of around 25 people, mostly in Beijing, with a Hong Kong outpost and plans for a satellite office in London as well.
For a new studio, Büro-OS has an unparalleled amount of experience. Wallpaper* caught up with Scheeren on one of his regular trips to London, to discuss the new office and the initial projects that will help define how Büro-OS is perceived.
The final three projects overseen by Scheeren at OMA, The Scotts Tower and The Interlace building in Singapore and the MahaNakhon in Bangkok, are all concluded or on site; Büro-OS is effectively working with a clean sheet of paper.
Current projects include a 250m-tall mixed-use tower in Kuala Lumpur, a major new 800,000sq ft development in Chongqing, China, a new 2,000-seat theatre in Shanghai, as well as a small-scale studio and gallery for a Chinese artist in Beijing. Scheeren talks of an architecture specific to place, program and context, going far beyond star-struck iconism. We began by asking him how important context was to the studio's work.
Ole Scheeren: What is important for me is that all projects inhabit a space between general or typographical relevance, and specific manifestations of their actual context. The tower in KL deals a lot with its location and how a skyscraper can connect to the activity of the city.
It's a misassumption that there could ever be no context. No physical context at all. Perhaps no other architecture. But context goes beyond that: economical, political, psychological, climate, habits, standards, how people live, building regulations, a client's needs and expectations. Every project is a negotiation between multiple factors. The question is at which point do you intervene and manipulate the factors?
In Singapore [with the Scott Tower] it was very explicit. We realised that the only way to unlock the mid-sized typology of an apartment tower is to go beyond the conventional tower archetype, which essentially only repeats the same plan vertically, while the role of the architect is reduced to decorating the façade. Instead we looked very carefully at the intersection between building regulations and the developers requirements, and focused on the core of the building, the non-sellable part. By manipulating that we found we could 'dock' more apartments into the tower on each floor and generate a new building configuration, with four suspended independent apartment towers floating in the air.
At The Interlace, the cores are also crucial - they penetrate the building volumes in three different rotations and allow for the hexagonal stacking of horizontal blocks instead of limiting the design to generic vertical towers. They form the superstructure, as well as the highly efficient and optimised circulation system. In architecture, you can only generate freedom by understanding a project and it's specific context sufficiently well so that you can supersede what you've got.
W*: So are there any manifestos any more, or has ideology replaced them?
OS: I think currently there might be lack of both - of manifestos and ideology. What rather often seem to prevail are forms of opportunism and complacency. The question is how to develop a true position, how to embed your work in a context of meaning and relevance for the present and the future. Our ambition is to insert particular concepts into specific environments and to break open the static conditions of architectural production. We try to shift the focus away from the object-focused materiality of architecture and look at it as social constructs, as extensions of urban or personal realms. We don't have pre-defined visions of architecture, and try to develop prototypes in close response to the actual project.
W* Does this then preclude you from working on vaguely-worded competition briefs? Do you need lots of information before you can start designing?
OS: Ideally yes, but not always. Context in this sense is something you partly create yourself. You're not an innocent player in a wholly defined environment. The question is in which context do you want to insert yourself, and which aspects of it are you going to challenge?
I have started to look at a series of typologies, especially in Singapore. Very little prototyping is done in this area. There's a status quo for this kind of project now - retail at base, maybe one 'icon' tower that legitimises everything else. It's highly problematic.
W*: How do you go from conceptual to commercial? How do you find the clients?
OS: The choice of project and the choice of client is essential. The architect has to identify fertile situations. All the commercial clients I have worked with were in completely new territories with us. It's about creating a very intense dialogue and personal engagement and you have to look at your own work from everyone else's perspective.
Through the multiplicity of those understandings you can shift a radical idea into something that's both plausible and exciting. You have a vision, and you have to be able to communicate this vision. But if you don't create that moment of connect with a client, with all the economic and psychological realities involved, it simply doesn't happen.
W*: Would you ever go into partnership with a like-minded developer?
OS: It's a good question. I can see how establishing a methodology together could be beneficial. But on the other hand, the tension between architect and client - the multi-directionality inherent in this relationship - might ground a project in a far more radical position. The moment of surprise and challenge is very important, so while establishing such a partnership one needs to ensure this is not lost.
W*: How was your relationship with CCTV?
OS: CCTV is a very large and complex organisation. Most of the significant decisions were actually rather democratic, involving the board as well as lower-level employees and external advisors, all contributing their input to things that were at stake. Once things were decided they typically stood on a very broad basis of support. At the same time, there was a small group of people within the client organisation ultimately responsible for the project which was our true counterpart throughout the process. These people we were very close with, which might not be a surprise after eight years of collaboration.
W*: Is there still a place for the heroic in architecture?
OS: The notion of the hero is utterly uninteresting. Maybe, or hopefully, there's a place for vision, but that's also a problematic word. Perhaps we could call it 'desire' or 'fantasy'. Although these also sometimes have heroic elements, that's not the most interesting thing about them.
W*: What happens when you finish a building?
OS: You don't build a building for the process. You build it for a future existence in a world that is out of your hands. It's very exciting to think of buildings through these fictive scenarios, to play them through as a set of scenes.
W*: So there is no finished building?
OS: CCTV might be a blatant example: it will probably never be an entirely finished, stable entity that won't change. At this scale even before the building has been fully occupied things will have changed, and the first part will have been adapted or converted. Architecture is an organism that keeps transforming through the life that it contains.
W*: How do you see Büro Ole Scheeren evolving?
OS: Since I stepped out [from OMA] quite a lot of work has been coming in, even before the new office was officially announced. The current projects are exciting, and the mix and scale is very important to me in defining the practice's work on a broad and diverse basis, particularly at the beginning. But we are also looking into doing larger, more research-based projects, as well as exploring possibilities in city planning. Asia is a good place to be right now, and clients here particularly value our actual long-term presence and true involvement with the region. Nonetheless, it is important to me to maintain a connection to Europe and the rest of the world, and this is why we are preparing to undertake work in the West again and why we will open an office in London.
Jonathan Bell has written for Wallpaper* magazine since 1999, covering everything from architecture and transport design to books, tech and graphic design. He is now the magazine's Transport and Technology Editor. Jonathan has written and edited 15 books, including Concept Car Design, 21st Century House, and The New Modern House. He is also the host of Wallpaper's first podcast.