Pulp Press by John Gerrard at the Kistefos Museum, Norway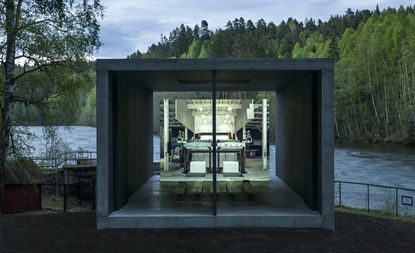 (Image credit: John Gerrard)
A new work by Irish artist John Gerrard (opens in new tab) has just opened in the sculpture park of Norway's Kistefos Museum (opens in new tab) in Jevnaker, about 60km north of Oslo. The permanent work, 'Pulp Press (Kistefos) 2013', is located in the grounds of a 19th-century paper mill and has brought the industrial machine back to life, albeit as a digital simulacrum built with software that is more typically used by the military and gaming programmers.
It has taken a couple of years for Gerrard and his team to reconstruct the mill digitally, with missing pipes, valves and components sourced and added to create a true-to-life, digital replica. Gerrard's virtual mill is now presented to the public as a projection within a bespoke concrete pavilion, designed in collaboration with Dublin's A2 Architects (opens in new tab).
The work's physical presence is also inherent in the daily increasing 'stock' of digital sheets of paper pulp it produces - digital files that are inspired by historic images. They accumulate in hard-disk units inside the pavilion, emulating the piles of wood pulp bales that the mill once produced. As each hard disk is filled, another is required, and so the project expands forever more. While we may live in a 'paperless' world, Gerrard is keen to remind us that even digital data is stored in a physical world.
The pavilion is the latest in a series of collaborations between Gerrard and A2 Architects, and joins sculptures in the park by artists including Claes Oldenburg and Coosje van Bruggen (opens in new tab), Marc Quinn (opens in new tab) and Anish Kapoor (opens in new tab).
ADDRESS
Kistefos Museum, Samsmoveien 41
N-3520 Jevnaker, Norway
VIEW GOOGLE MAPS (opens in new tab)
Elias Redstone is Wallpaper's Australia editor and an acclaimed arts leader. He is the founder and artistic director of Photo Australia / PHOTO International Festival of Photography, Melbourne. Previously, Elias was senior curator of The Architecture Foundation, London. He has curated exhibitions for museums and galleries internationally including Barbican Art Gallery, London; Storefront for Art and Architecture, New York; and Centre for Contemporary Photography, Melbourne. His book Shooting Space: Architecture in Contemporary Photography is published by Phaidon.