Positive regeneration: a Carnegie building in Newham becomes public art space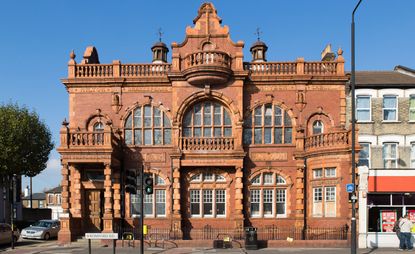 (Image credit: Emil Charlaff)
Having sat unused and unloved for the past three years, the Old Manor Park Library – a striking, Grade-II listed pile in London's Newham Borough – is to re-open this month as a multifaceted public arts, business and community space.

Facilitated by Create (opens in new tab) and Bow Arts (opens in new tab), the imposing Carnegie building's new design has been developed by the architects Nicholas Lobo Brennan (a founding member of Gruppe (opens in new tab)) and Astrid Smitham – who are based in London and Zurich – and is supported by a grant of close to £200,000 from the Mayor of London's High Street Fund.

Maintaining the building's idiosyncratic and imposing exterior, Lobo Brennan and Smitham have created a customisable interior of transparent walls juxtaposed with the building's florid period features, exposed and restored to their former glory.

As well as artist studios and meeting rooms, the Library will house the Rabbits Road Institute – an arts space led by Ruth Beale and Amy Feneck. The ethos behind the new space was inspired by research conducted by the duo on the mid-Victorian era Free Library Movement, which strove for the improvement of community education, channeled here into Beale and Feneck's interests in self-education, skill sharing and 'the reimagining of a municipal heritage building'.

It's a welcome development in a cosmopolitan borough where high statistical levels of deprivation sit shoulder-to-shoulder with the modern facilities developed for the 2012 Olympics (much of the Olympic Park is situated in Newham), and a vital addition to existing community arts initiatives that include the much loved Rosetta Art Centre (opens in new tab) in Stratford and events staged in Canning Town by the London-based Brick Box (opens in new tab).

'This fantastic initiative will not just bring this Grade II listed building back to life,' says Sir Robin Wales, Mayor of Newham, 'but turn it into an innovative vibrant cultural space that can be used and enjoyed by the local community.'

In an era where 'public regeneration' is often synonymous with crass gentrification and megabucks residential projects, who'd argue with that?
INFORMATION
Photography: Emil Charlaff